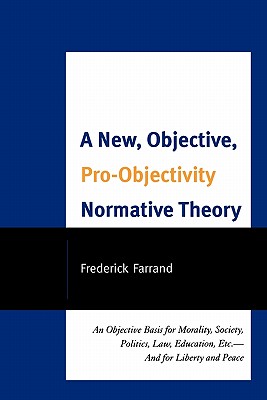 A New, Objective, Pro-Objectivity Normative Theory (Paperback)
An Objective Basis for Morality, Society, Politics, Law, Education, Etc.-And for Liberty and Peace
University Press of America, 9780761852865, 222pp.
Publication Date: October 29, 2010
* Individual store prices may vary.
Description
A New, Objective, Pro-Objectivity Normative Theory tries to solve fundamental normative moral, social, political, educational, legal, etc. problems. It defends a uniquely evidence-based, objective theory. The theory argues it has one objective, primary end, and plural a-objective, secondary ends irrelevant to that end. The theory's basis permits great liberty as well as cultural, sexual, artistic, lifestyle, and much other diversity regarding secondary ends. The primary end is a general principle implying non-sexism, non-racism, types of happiness, freedom, education, sympathy, peace, democracy, altruism, flourishing, fairness, and much more. Emotions and various other subjective experiences are considered important. Part II discusses such specific practical applications at length. Part I mainly explains and defends the theory's foundation and general guidelines. One guideline prescribes applying the theory's rationally-critical approach to the theory, stressing that fallibilism and skepticism may be appropriate regarding some suggested specifics --- but that future research can increasingly avoid problems here.
About the Author
Frederick Farrand is a retired Australian philosopher and psychologist who previously researched and/or taught psychology, moral, social, and political philosophy, and some epistemology. He retired mainly to have time and energy to write books such as this. He and his partner, Mary, live with their dog, Buster, their children having grown up and left home.