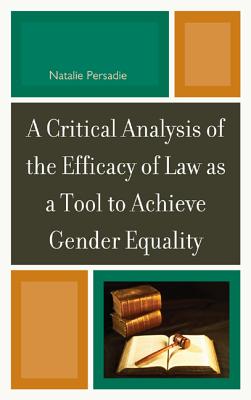 A Critical Analysis of the Efficacy of Law as a Tool to Achieve Gender Equality (Hardcover)
University Press of America, 9780761858096, 272pp.
Publication Date: July 26, 2012
* Individual store prices may vary.
Description
Law is often perceived as an instrument that can effect social change. While this might be so, it must be complemented by the necessary financial and human resources to make the law effective. Natalie Persadie explains that, among developing countries, such as Trinidad and Tobago, the achievement of legal advances for women--at either the international or national levels--is particularly difficult where practical measures are not subsequently implemented. This is, perhaps, attributable to a lack of political will. Important issues such as gender equality and domestic violence are not given priority and laws aimed at protecting women and promoting women's rights are ineffective, scant, or unenforced. Gender justice can only be realized through a multilevel approach from above and, more importantly, from below, as women have the potential to effect real national and international legal and institutional change to ensure gender equality at both levels.
About the Author
Natalie Persadie holds a Ph.D. in international relations from the University of Birmingham, UK. She has co-authored several journal articles and books. Persadie is assistant professor at the University of Trinidad and Tobago and part-time lecturer at the University of the West Indies.