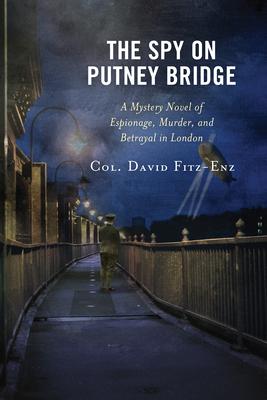 The Spy on Putney Bridge
A Mystery Novel of Espionage, Murder, and Betrayal in London
Paperback

* Individual store prices may vary.
Description
In an aging mansion on the north side of London's Putney Bridge, an old woman confesses a secret to her grandson, just returned home from the battlefields of World War II. Charlotte Stetchworth has always appeared to be a proper Englishwoman, though with a lively background as a suffragette and European traveler. Now, her grandson Freddy learns a sinister secret, that Charlotte and her son Rolly--Freddy's father--were involved in a complex web of spying for the Germans starting in World War I. In this captivating novel by historian and Army veteran Colonel David Fitz-Enz, we follow Rolly throughout the European theater of World War I. Rags, as he is known to friends and colleagues, is assigned to the staff of Major General Avery Hilliard Hopewell, an inspector general for the British Army whose work takes him from the battlefields of France to Alexandria and Gallipoli and beyond. Rags' travels lead him to army hospitals, a mysterious father figure, a beautiful nurse wracked with grief, and Churchill's War Rooms. Along the way, he and Charlotte learn the art of spycraft and use any means necessary to keep their secret. But while Freddy is told his family's covert history, he begins to suspect that Charlotte has just scratched the surface. Beginning his own investigation, Freddy learns that there is much more to discover about the spy on Putney Bridge.
Hamilton Books, 9780761872573, 396pp.
Publication Date: February 26, 2021
About the Author
Colonel David Fitz-Enz was a regular US Army officer for thirty years, including assignments as a combat photographer in Vietnam and commanding a signal brigade that operated the Moscow Hot Line for three presidents. He is the author of a memoir, Why a Soldier? and three books of military history: Old Ironsides: Eagle of the Sea; Hacks, Sycophants, Adventurers and Heroes: Madison's Commanders in the War of 1812; and The Final Invasion: Plattsburgh, the War of 1812's Most Decisive Battle. His first novel was Redcoats' Revenge: An Alternative History of the War of 1812.