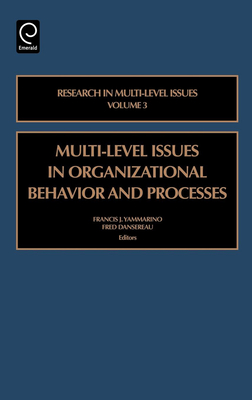 Multi-Level Issues in Organizational Behavior and Processes (Research in Multi-Level Issues #3) (Hardcover)
Emerald Group Publishing, 9780762311064, 468pp.
Publication Date: August 1, 2004
Other Editions of This Title:
Hardcover (8/8/2003)
Hardcover (5/27/2009)
* Individual store prices may vary.
Description
"Multi-Level Issues in Organizational Behavior and Processes" is Volume 3 of "Research in Multi-Level Issues," an annual series that provides an outlet for the discussion of multi-level problems and solutions across a variety of fields of study. Using a scientific debate format of a key scholarly essay followed by two commentaries and a rebuttal, we present, in this series, theoretical work, significant empirical studies, methodological developments, analytical techniques, and philosophical treatments to advance the field of multi-level studies, regardless of disciplinary perspective. Similar to Volumes 1 and 2, this volume, Volume 3, contains five major essays with commentaries and rebuttals that cover a range of topics, but in the realms of organizational behavior and processes. In particular, the five critical essays offer extensive literature reviews, new model developments, methodological advancements, and some empirical data for the study of part-time work, trust, diversity, construct validation, and organizational processes. While each of the major essays, and associated commentaries and rebuttals, is unique in orientation, they show a common bond in raising and addressing multi-level issues or discussing problems and solutions that involve multiple levels of analysis.