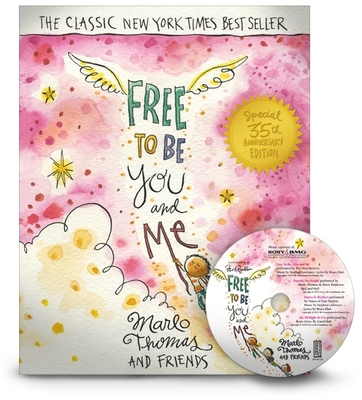 Free to Be...You and Me (Hardcover)
Running Press Kids, 9780762430604, 136pp.
Publication Date: October 14, 2008
Other Editions of This Title:
Paperback (7/11/2002)
* Individual store prices may vary.
Description
This is the book we all know and love by Marlo Thomas and her friends—brought to new life with brand new illustrations to captivate and inspire a new generation of readers on a journey of the heart. Whether you are opening Free to Be . . . You and Me for the first time or the one hundredth time you will be engaged and transformed by this newly beautifully illustrated compilation of inspirational stories, songs, and poems. The sentiments of thirty-five years ago are as relevant today as when this book was published. Celebrating individuality and challenging stereotypes empowers both children and adults with the freedom to be who they want to be and to have compassion and empathy for others who may be different. Working closely with Marlo and co-creator Carole Hart, Peter H. Reynolds, the New York Times Best Selling Children's Book Author/Illustrator, conjured his whimsical drawings throughout the book bringing a new sense of unity and warmth to the pages. You will find yourself marveling at the illustrations, nodding in agreement with the stories and poems, and singing the words to all the classic songs! It is wonderful that the thoughts, ideas, and emotions the creators envisioned so many years ago can still have a magical effect on children today.
About the Author
Marlo Thomas is an award-winning actress who burst onto the Hollywood scene and gained acclaim for her role as Ann Marie on That Girl, a part for which she earned a Golden Globe® and four Emmy® nominations. Thomas is also known for her numerous publications and recordings. She conceived the New York Times best-selling book Free to Be…You and Me, which inspired a CD recording (to which she contributed her vocal talents) and a stage show. More recently, she published Thanks & Giving Book and CD, The Right Words at the Right Time, and The Right Words at the Right Time Volume 2: Your Turn! She and her husband, talk-show host Phil Donahue, reside in New York City. Please visit her at www.marlo-thomas.com.
Praise For Free to Be...You and Me…
Miley Cyrus
"Free to be…you and me. Each and every one of us has our own special song to sing. As a musician, I get to hear this all the time—amazing voices, high and low, sweet and funky, all coming together like some great big choir. This book is just like that. Look at all the wonderful art. Read the funny poems and awesome stories. Each page is ONE IN A MILLION, and they all shout out with the same, unstoppable message: that YOU are the star of your own concert. Just like you—and just like this book—I know I'll continue to grow and change over the years into new versions of me. We're all free to be…you and me. And that's THE BEST OF BOTH WORLDS."
School Library Journal, October 20, 2008
"This upbeat volume's message remains valid, and it will be enthusiastically greeted by fans of the original (many of whom are now parents themselves) and those interested in anthologies about empowerment."
"Free to Be… You and Me was so special to us when were children, and now, we can't tell you how excited we are to be turning the pages of the 35th Anniversary edition. …This book, which comes with a CD, is one for your whole family to treasure."