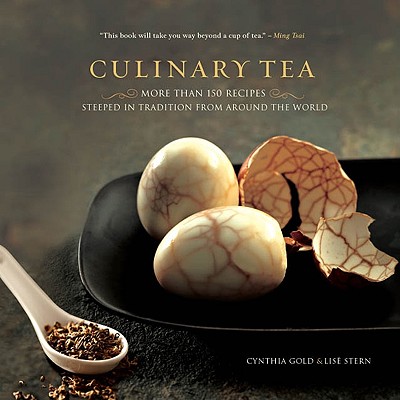 Culinary Tea: More Than 150 Recipes Steeped in Tradition from Around the World (Hardcover)
More Than 150 Recipes Steeped in Tradition from Around the World
Running Press Book Publishers, 9780762437733, 288pp.
Publication Date: September 7, 2010
Description
This cutting-edge tome on one of the world's oldest ingredients and most popular beverages will be an invaluable tool for both home and professional cooks. Gold and Stern offer new ways of looking at tea: the leaves with a history stretching thousands of years is now a secret weapon in the culinary arsenal.
Tea in its many forms has been around for thousands of years, and is a burgeoning industry in many countries as the demand for specialty leaves grows. Read all about the picking and drying techniques virtually unchanged for centuries, popular growing regions in the world, and the storied past of trading.
Culinary Tea has all this, plus more than 100 recipes using everything from garden-variety black teas to exclusive fresh tea leaves and an in-depth treatment of tea cocktails. The book will include classics, such as the centuries-old Chinese Tea-Smoked Duck and Thousand-Year Old Eggs, as well as recipes the authors have developed and collected, such as Smoked Tea-Brined Capon and Assam Shortbread.
About the Author
Cynthia Gold is a tea sommelier at The Boston Park Plaza Hotel & Towers. She also frequently speaks on tea cuisine at conferences and teaches at culinary institutes around the country. She lives in Boston, Massachusetts.Lise Stern has written on diverse subjects from software to travel, and considers food writing her main passion. She lives in Boston, Massachusetts.
Praise For Culinary Tea: More Than 150 Recipes Steeped in Tradition from Around the World…
Joseph Simrany, President, Tea Association of the USA, April 6, 2010
"For those of you who think you know all about tea, you have never met Cynthia Gold or her disciple Lisë Stern.  Together, they will take you on a gustatory adventure that will span the globe in search of new ways to enjoy this amazing beverage."

James Norwood Pratt, author of The Tea Lover's Treasury and The Tea Lover's Companion
"Beautiful, imaginative, and wonderfully clear, what Cynthia Gold and Lisë Stern have given us is nothing less than a new dimension to the culinary arts. Here is the simply indispensable work on tea with cooking and cooking with tea. In time we will all pay our compliments to the chef."

Ming Tsai, host of award-winning PBS series, Simply Ming
"Everyone loves tea, but not many know that you can cook with it as well, and not just the classic recipes like Tea-Smoked Duck. Cynthia and Lisë have put together over 250 pages filled with savory and sweet recipes that use tea as an ingredient. From the Orange Spice Tea-Roasted Pork Tenderloin with Mango-Peach Salsa to the Earl Grey Cream Tea Cake, this book will take you way beyond a cup of tea."

Nina Simonds, author of Spices of Life
"In CULINARY TEA, tea authority Cynthia Gold and food writer Lisë Stern offer generous information about all matters of tea, including tea history and varieties, advice on tea and food pairings, and a treasure trove of intriguing and mouth-watering tea-infused recipes."

Adam Ried, Boston Globe Magazine cooking columnist and author of Thoroughly Modern Milkshakes
"In Culinary Tea, Cindy Gold and Lisë Stern offer an inspired, information-packed, eye-opening tea-torial on every aspect of this ancient, and modern, staple. Detailed taste profiles, flavor pairing recommendations, and incredible recipes help you see, and taste, tea in a whole new light—and in different cookware, too! Gold and Stern catapult tea from the cup right into the saucepan, skillet, roaster, and cookie sheet—and that's just the beginning!" 

Chris Schlesinger, co-author of James Beard award-winning The Thrill of the Grill, contributing editor to Saveur, and chef/owner of East Coast Grill
"As a chef, I am always excited to get reintroduced to an ingredient that has such a universal appeal and a broad function in the kitchen. After reading Culinary Tea, I am eager to try out several innovative concepts from brining and smoking to culinary rubs. Cynthia Gold and Lisë Stern's book will satisfy everyone from the home cook to the restaurant chef and will open the eyes of every reader to the wonderful uses of culinary tea." Milwaukee Journal Sentinel 8/24/10"A beautiful text, with many unusual recipes… Recipes are easy to follow, each to its own page and the sturdy book and thick paper stock stay open on the counter with no need for place-holding. A substantial and sophisticated cookbook for the price." 
Karen Page and Andrew Dornenburg, James Beard award-winning authors of The Flavor Bible
"Anyone who enjoyed the food and tea pairings in our book What to Drink with What You Eat but hoped to explore the subject in greater depth will absolutely love Culinary Tea -- and should add this beautifully-photographed book to their collection immediately. It is a welcome introduction to tea's myriad applications both in the kitchen and at the table, and has become our new favorite tea-related book. Bravo to authors Cindy Gold and Lisë Stern, whose passion for tea is contagious!"
Alice Medrich, author of Bittersweet and Pure Dessert
"Culinary Tea is authoritative, inspiring, and useful for any cook passionate about bringing new and authentic flavors to their cooking. Cindy and Lise give us a wealth of details, ideas, flavor profiles, and cooking methods in addition to tantalizing recipes. In no time you will be deglazing pans with tea, cooking rice in it, brining poultry and making soup with it, not to mention concocting ice creams, cookies and desserts. Tea may well be the next big flavor… I'm totally on board."
Mary Lou Heiss, co-author of the IACP award-winning and James Beard-nominated The Story of Tea
"Cooking with tea? You bet! In Culinary Tea Cynthia Gold and Lisë Stern draw on culinary school training, tea knowledge, and recipe development skills to show us how easy it is to use tea in all of its guises (fresh and dried leaves, tea broths and powdered tea) to create a wealth of tasty foods, sauces, desserts, and beverages. The recipes in Culinary Tea are written with a sure hand and a clear sense of guidance. Readers will discover that Cynthia and Lisë breathe new life into the centuries-old Asian uses of tea in the kitchen as they shows cooks of all levels how the addition of the flavor of a certain tea can infuse today's favorite dishes (such as black bean soup, chicken salad, salmon, short ribs, scones, chocolate cake, and ice cream) with a new allure. In short, Culinary Tea is a terrific "how to" book for those looking to expand their culinary horizons or to explore another facet of tea."
Marialisa Calta, "Eat in and Save" syndicated columnist, September 23,2010
"This elegant volume also tells you everything you need to know about sourcing, buying, storing and making tea. But it is the culinary uses that intrigue."
Today's Diet & Nutrition, January 2011
Cynthia Gold and Lisë Stern take an age-old but now largely unfamiliar practice--cooking with tea--and elevate it to an art form....Culinary Tea is the kind of cookbook you can spend hours leafing through, marveling at the creative combinations, learning new techniques, and trying to decide which mouthwatering recipe to try first."
Tucson Citizen, 12/15/10
"This is one of the most unusual cookbooks I've ever tested and also one of the most fascinating… a fun cookbook that should be an inspiration to find new and exciting uses for this timeless ingredient."
Advertisement