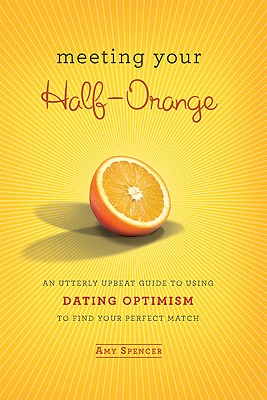 Meeting Your Half-Orange: An Utterly Upbeat Guide to Using Dating Optimism to Find Your Perfect Match (Hardcover)
An Utterly Upbeat Guide to Using Dating Optimism to Find Your Perfect Match
Running Press, 9780762437740, 240pp.
Publication Date: January 1, 2010
* Individual store prices may vary.
or
Not Currently Available for Direct Purchase
Description
The Power of Positive Dating!
About the Author
Amy Spencer is a relationship expert who writes for Glamour, Harper's Bazaar, Page Six Magazine, Cosmopolitan, Match.com, and others, and the former host of the relationship call-in advice show Sex Files on Sirius Satellite Radio's Maxim channel. She lives in Venice, CA, with her own "half-orange."
Praise For Meeting Your Half-Orange: An Utterly Upbeat Guide to Using Dating Optimism to Find Your Perfect Match…
Harville Hendrix, Ph.D., author of Keeping the Love You Find: A Personal Guide and Getting the Love You Want
"This is a book of hope helping those looking for their other half move from pessimism to hope and from fantasy to reality. A must read for singles looking for love."

Jillian Michaels, fitness trainer on NBC's The Biggest Loser and bestselling author of Master Your Metabolism
"IF YOU'RE SINGLE, drop everything and read this book. It will completely change dating for you as you know it. I can work out your body, but Amy will get your love life in shape!"

Harper's Bazaar, February 2010
"Disillusioned by dating? Meeting Your Half-Orange is the ultimate pep talk."

Glamour, March 2010
"Tear up your old list for your ideal mate, says Amy Spencer, author of the new book Meeting Your Half-Orange. Forget the superficial musts . . . and focus on how you want to feel in the relationship."

Cosmopolitan U.K. , February 2010
"Meeting Your Half-Orange by Amy Spencer is a dating guide with a difference."

Laurie Sandell, author of The Impostor's Daughter
"I could not put this book down. Amy Spencer cuts through the scrap heap of self-help literature with a guide to life that is so joyful—so utterly helpful—you can consolidate that library into one. Women and men looking for love, meet your new guru."

Star magazine, February 8, 2010
"Just in time for Valentine's Day comes this upbeat book from relationship expert Amy Spencer. She thinks there's a Mr. Right, or half-orange, for everyone, and the only way to find him is by being yourself. Sounds tasty!"

Actress Diane Farr, Californication and Rescue Me
"Where the heck was this book when I was single? It would have saved me years of frustration! I'll be recommending Meeting Your Half-Orange to every 'single' person I know."

Joanna Bober, magazine editor
"I feel like Amy is absolutely hitting on every issue that spins around in the brain of a single woman, even the ones that I couldn't explain to myself. This book is a gift to women."

BookPage, February 2010
"In Meeting Your Half-Orange, Amy Spencer helps singles harness the power of optimism to find their other halves. If your glass is empty . . . you may be the person who needs it most."

Skirt! Boston, January 21, 2010
"If you're constantly looking for love, stop the search, and pick up Amy Spencer's new dating guide Meeting Your Half-Orange. This optimistic and unique take on relationships and what we truly want in our other-halves is unlike your typical "go seek our Mr. Right" self-help book. Instead, Spencer advocates for establishing yourself as an individual and learning to accept yourself for who you are, rather than transforming to cater to the needs of a potential boyfriend."

Sirens magazine, February 16, 2010
"Snaps to Spencer for putting 'upbeat' right there in the title. Nearly every other dating book screams at women with phrases such as 'find love now!' or 'stop making dumb mistakes!' This text—half memoir, half advice book—takes the perspective of an honest, encouraging friend who's been there."
Advertisement