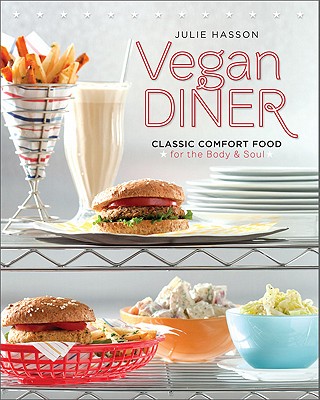 Vegan Diner (Paperback)
Classic Comfort Food for the Body and Soul
Running Press Adult, 9780762437849, 192pp.
Publication Date: March 8, 2011
* Individual store prices may vary.
Description
Finally, a collection of recipes that provides guilt-free comfort-food indulgence for vegans everywhere. With 125 recipes and more than 30 food photos, author Julie Hasson aims to introduce plant-based diner fare both savory and sweet. This new vegan classic covers breakfast, lunch, and supper from the diner-gone-vegan!
From pancakes, waffles, and luscious muffins to scrambles, faux Benedicts, and homemade sausage, this vegan cookbook has breakfast sizzling. Traditional lunches get a healthy new lease through clubs, open-faced sandwiches, soups, and pastas. Even filling casseroles, comforting mac-and-cheese, and slow-cooked stews are deliciously reinterpreted, followed by desserts ranging from shakes to creamy cheesecakes.
About the Author
Julie Hasson and her husband started their web-based cooking show, Everyday Dish TV, after realizing that the market was ripe for an accessible vegan show. She is the author of five cookbooks, and has contributed to numerous magazines. She lives near Portland, Oregon
Praise For Vegan Diner: Classic Comfort Food for the Body and Soul…
Even meat-lovers may find some tempting, healthful substitutions in this worthwhile homage to the diner-dedicated vegan.
Publishers Weekly, 4/4/11
" …a boon to vegan cooks who crave diner-style food… This is a book for the committed and adventurous vegan cook; it's inspiring and fun."
Oregonian, 4/4/11
"The recipes and beautiful photos make this a good starting point for people curious about trying more plant-based food, and the list of vegan pantry essentials does a good job explaining unusual ingredients."
Outblush.com, 4/3/11
"The ultimate in cruelty-free comfort food."
Library Journal, 5/13/11
"Hasson (125 Best Cupcake Recipes) writes that many students in her cooking classes don't want to give up their favorite foods. To counter that excuse, she here includes many favorite American dishes as vegan delicacies. She first lists vegan pantry items (such as agar powder, egg replacer, and tofu) and special equipment (blender, metal measuring cups, and whisk). While this book doesn't include nutritional information, it's a fun vegan cookbook—featuring, e.g., Mocha Muffins, Diner Donuts, Vampire Fries, Mushroom Burgers, and Ooey-Gooey Brownies. Sure to add some variety to weeknight meals. "
Follow the foolproof directions in Julie's snazzy and impeccable latest work that includes creative and mouthwatering dishes, such as My Big Fat Greek Scramble and Vampire Fries, and turn your kitchen into the only diner of the neighborhood that is sure to leave no taste bud unsatisfied, while keeping all animals safe and happy.
Bryanna Clark Grogan, author of Nonna's Italian Kitchen
I am so delighted with Julie's new book! Not only does it look wonderful, with delectable color photos of many of the recipes, and stylishly retro diner scenes, but the content is a perfect combo of familiar and original. You'll find old favorites like All-American Beer-Battered Onions, Ooey-Gooey Brownies, and Biscuits with Creamy Sage Gravy alongside Spelt Chai Pancakes, Vampire Fries, and Philly Seitan Sliders, to name but a very few must-make recipes in this book.

Fran Costigan, author of More Great Good Dairy-free Desserts Naturally
VEGAN DINER is packed with inspired veganized versions of classic diner foods, and then some! Novice, vegan or omnivore, all are sure to enjoy Julie Hasson's clear, creative recipes that will take you from breakfast waffles to gooey brownies and everything in between.
Kirkus Review, 3/15/11
A former meat-lover puts a vegan twist on the diner experience.
 
Rapid Growth, 5/19/11
"It is a cookbook that has captured not only my imagination, but also my appetite… This book's premise is simple. Rather than be told that to be vegan you must be willing to live your life on an endless diet of peanut butter sandwiches and microwave bean burritos, this Portland author and producer of the online cooking program "Everyday Dish" has created the definitive guide to recreating those dishes you thought you could never indulge in again..."Vegan Diner" breaks down those walls with not only easy-to-follow recipes of ingredients found in most cooks' kitchens, but creates those menu items with visually stunning results… This is probably the first vegan cookbook to come out that not only speaks to many who are asking for options, but "Vegan Diner" is sure to satisfy the hunger in those seeking an alternative to the 'we have a salad' reply."
Kim Barnouin, co-author of the #1 New York Times Bestseller, Skinny Bitch
VEGAN DINERis one of those cookbooks that inspires you to cook. The recipes are accessible and mouth-watering, and will definitely bring out the foodie in those who read it. It brings vegan cuisine to a whole new level!
Dynise Balcavage, author of The Urban Vegan
Nothing could be finer than eating at Julie's diner! Her animal-free, diner-inspired dishes elevate diner chow from trashy to classy, and the recipes are so easy that you'll make them again and again. Only thing that's missing is a big-haired waitress who calls you 'Hon.'
Nava Atlas, author of Vegan Express
From hearty breakfasts to swoon-worthy desserts, VEGAN DINER proves that even the coziest of comfort foods can be re-created in fantastic plant-based versions. So enjoy a classic Blue Plate Special or Barbecued Ribz, washed down with a malted and topped off with a banana pudding pie. These fun, guilt-free retro recipes are as good for you as they are kind to the planet. 
Mark Reinfeld, co-author of The 30-Minute Vegan
Incredible decadence and down-home vegan goodness! Julie has created a masterpiece of healthy comfort food.
Celine Steen, co-author of 500 Vegan Recipes