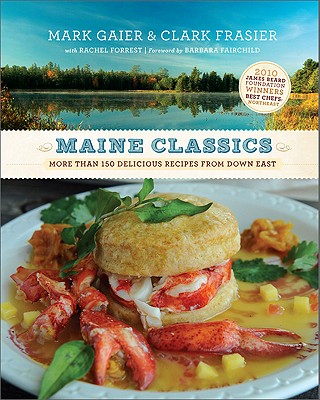 Maine Classics: More Than 150 Delicious Recipes from Down East (Hardcover)
More Than 150 Delicious Recipes from Down East
Running Press Book Publishers, 9780762438709, 320pp.
Publication Date: April 26, 2011
* Individual store prices may vary.
or
Not Currently Available for Direct Purchase
Description
Maine food is about putting on a bib and getting messy with lobster in the summer. In the winter, it's about tossing brisket and potatoes in a pot on the back of the woodstove.
Maine Classics
brings the carefree spirit of those who work the land and sea to life.
More than 150 simple, straightforward dishes are organized by the shore, the sea, the forest, the farm, the garden, the dairy, and the bakery. Celebrate Maine's bounty with recipes such as Ham with Fried Apples, Corn Fritters with Maple Syrup, Classic Lobster Rolls, and Pickled Fiddlehead Ferns. Stories of farmers, lobstermen, cheesemakers, and old-school bakers "infuse our cooking and inspire us to explore our own culinary legacies," say award-winning authors Mark and Clark. Chock-full of full-color photographs, this cookbook is definitely a Maine classic.
About the Author
Mark Gaier and Clark Frasier opened Arrows Restaurant in Ogunquit, Maine, in 1988 after careers in fine restaurants from San Francisco to Boston. They are the 2010 James Beard Outstanding Chefs in the Northeast. They now own three restaurants in New England and appear frequently on NBC's Today show and the CBS Morning Show, where they demonstrate cooking techniques. Their accomplishments have won praise well beyond the food press, with articles in Time, the Wall Street Journal, the New York Times, Travel & Leisure, and Conde Nast Traveler. And their recipes have been featured in Esquire, Men's Journal, Men's Health. They live in Cape Neddick, Maine.Rachel Forrest is a former Silicon Valley internet executive who changed her life to become a food writer and restaurant critic covering dining, food trends, and culinary culture in the Seacoast area of New Hampshire and Maine for Dow Jones Local Media Group. She lives in view of Maine in historic Portsmouth, NH with her teenaged daughter, Avalon.
Praise For Maine Classics: More Than 150 Delicious Recipes from Down East…
Food & Wine
"Chefs Mark Gaier and Clark Frasier's delicious dishes make the most of the season's freshest ingredients- including those they grow themselves."
Emily Luchetti, Executive Pastry Chef Farallon and Waterbar Restaurants
"In this book, Mark and Clark capture the essence of Maine's incredible food bounty. The clearly written recipes are classics with added twists of flavor from their signature style. Cook from this book and you will feel like a culinary Mainiac."
John Besh, Chef/Owner Besh Restaurant Group
"Mark and Clark aren't just two of the most talented chefs in the country, but two of the finest people I know. Their passion and love for local Maine cooking resonates with every delicious recipe in Maine Classics. A true benchmark for American cookbooks."
Paul Kahan, Partner/Executive Chef of Blackbird, avec, The Publican and Big Star
"Clark and Mark define an American regional cuisine in a way that is clean and contemporary, fresh and inventive, and truly farm to chef. The book is a joy to cook from."
Publishers Weekly, 4/18/11
"More than just a collection of recipes representative of the state, this cookbook is a love letter to the region, an homage to the local fishermen, farmers, and foragers who bring fresh food to the table. Gaier and Frasier, chefs and owners of three restaurants, are passionate about their beloved state and all it has to offer, even as the winters are long and the summers are brief. Chapters are divided by the foods' origins, and each includes a profile of a farmer, cheesemaker, baker, etc., whom the authors know personally. "The Shore," for example, includes myriad recipes for oysters, clams, and crabs (the festive crab parfait is stunning) as well as instructions on how to shuck an oyster; "The Forest" addresses fiddlehead ferns and ramps and the many varieties of mushrooms indigenous to Maine, as well as quail, rabbit, venison, and duck, and includes a traditional Mainer's Thanksgiving menu. The final chapter, "The Root Cellar," includes root vegetable recipes as well as ones for preserves and pickles. A page explains the basics of canning, with recommended resources for further instruction. The short intros to recipes offer bits of history, and the color photos throughout of food, animals, people, and landscape capture the spirit and beauty of Maine. This is a deliciously appealing book, especially for Down East locavores."
Library Journal, 4/15/11
"If lobster is the only food that comes to mind when you think of Maine, this book will broaden your cooking horizons. Though cooks will find plenty of lobster and other seafood recipes here, ingredients also come from the farm, forest, and garden. James Beard award–winning chefs at Arrows in Ogunquit, ME, Gaier and Frasier serve up dishes like Lobster Shortcake with Rum Vanilla Sauce, Grilled Rabbit with Juniper and Bay Leaves, and Bok Choy with Shiitake Mushrooms. Readers looking for an armchair trip to Maine won't be disappointed—a plethora of scenic photos are also included."
Wine Spectator.com, 4/15/11
"Frasier's and Gaier's new book is a kind of historical document, tracing Maine's food history for the past 250 years, from Native American clambakes, corncakes–and puddings to spices culled from overseas trading to the foragers, fishermen, small farmers and artisan cheesemakers and bakers who make up the new face of Maine cuisine."
Mariani's Virtual Gourmet Newsletter
, Vol IX
"Award-winning chefs Gaier and Frasier, of Arrows Restaurant in Ogunquit, Maine, were among the first restaurateurs to showcase the true bounty of the New England cornucopia, and this highly instructive book shows why the food of that region is so extraordinarily rich and by necessity tied so intimately to the seasons.  There is good info on foraging, on "How to Eat a Lobster," and the essential herbs  to plant for a garden.  Then come irresistible recipes--johnnycakes with peekytoe crab, classic lobster rolls, cod cakes with tartar sauce, Yankee pot roast, and Whoopie pies, all old fashioned dishes made with a professional's eye towards finesse but without over-refinement." 
Providence Journal

"I can't think of any other book I'd pick up on the search for wonderful, seasonal recipes before reaching for
Maine Classics
. … amazing photos… a good read as well as guide to cooking a wonderful seasonal meal, whatever the season." 
Herald News
, 7/20/11
"…a fascinating read about the Maine way of life as much as a collection of distinctive recipes." 
Poughkeepsie Journal
"Beautiful color photographs of landscapes and people make this cookbook a feast for the eyes."
Down East magazine, October 2011
"Gorgeously designed and photographed…Mark Gaier and Clark Frasier…have lived and worked in Maine for more than twenty years, and Maine Classics reflects their intense love of the food, history, and culture of their adopted state. …Smashing color photographs…Gaier's and Frasier's heartfelt essays on savoring the goodness of Maine food also weave through the recipes."
Advertisement