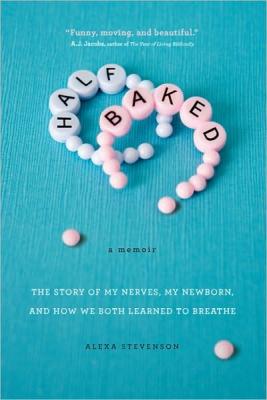 Half Baked (Paperback)
The Story of My Nerves, My Newborn, and How We Both Learned to Breathe
Running Press Book Publishers, 9780762439461, 297pp.
Publication Date: August 10, 2010
* Individual store prices may vary.
Description
Author Alexa Stevenson had spent most of her life preparing for the wrong disasters. When her daughter is born 15 weeks early, she is plunged into the strange half-light of the Newborn Intensive Care Unit, where she learns the Zen of medical uncertainty and makes the surprising discovery that a worst-case scenario may just be the best thing that's ever happened to her. The absurdities of the medical system, grappling with mortality, and coming into one's own are all explored in this wryly heartfelt memoir.
From the indignities of infertility treatments to managing bedrest and parenting a preemie (how does one wrangle an oxygen tank while changing a diaper?), Alexa recounts her rocky road to motherhood with a uniquely sharp, funny, yet poignant voice.
About the Author
Alexa Stevenson is author of the popular blog Flotsam, where she writes about everything from parenting to procrastination with a trenchant wit that has earned her a devoted following. Flotsam has won praise from Jezebel, the California National Organization for Women, and the London Sunday Times, and has readers spanning dozens of countries and all 50 states. Alexa has also written for Wondertime Magazine and been a commentator on NPR's Morning Edition. She lives in St. Paul, MN.
Praise For Half Baked: The Story of My Nerves, My Newborn, and How We Both Learned to Breathe…
Elizabeth McCracken, author of An Exact Replica of a Figment of My Imagination and The Giant's House
Alexa Stevenson's Half Baked is one of the best memoirs I've read in years: it's unbelievably sad and funny about some of the saddest, scariest things in the world. A book about love and worry, honesty and denial, beautifully written. Though she's original, her work reminds me of Calvin Trillin's, in the depth of its comedy and its generosity of spirit. Serious and hilarious, endearing and biting. Alexa Stevenson is the real thing.

A.J. Jacobs, author of The Year of Living Biblically and The Know-It-All
"This is a book for all those who have had kids, or plan to have kids, or who ever were a kid themselves at one point. What I'm trying to say is: it's for everyone. It's that lovely. Other adjectives that come to mind: Funny, moving and beautiful." Minneapolis Star Tribune, 8/8/10"Harrowing in drama but crackling with wit, the tone of the book -- like the tone of the blog it is based on -- is pragmatism meets poignant acceptance. It is, perhaps, the most unsentimental weeper you'll read this summer."    St Paul Pioneer Press, 8/9/10"…snarky, often-funny and always-honest… Besides telling a compelling story, Stevenson gives readers a writing tour de force...If you want to be treated to a memoir that's close to perfect, read HALF BAKED."    Iowa Press-Citizen , 8/9/10"…the 299-page memoir has something to offer anyone who is trying not to take personally what the impersonal universe throws her way." Daily Mail (UK) 8/27/10"The old-fashioned word for this hard-won acceptance of an unkind fate is grace; but Stevenson gives the ancient virtue a very modern twist in this memoir.Sassy, funny, incurably neurotic, she writes about love and grief in a headlong style that alternately breaks your heart and makes you laugh out loud."  Boston Globe, 8/27/10"[HALF BAKED] is sad and inspiring and shocking and funny, sometimes all at once. Stevenson shares a considerable amount of detail about her experiences, but her smart, appealing voice, knack for pacing, and unsentimental insights make for a gripping read. You won't find a single cliche or sanctimonious line in this book, a rather remarkable feat for a memoir of motherhood." Tucson Citizen, 8/31/10"…beautifully written and moving…HALF BAKED is an uniquely satisfying mix of humor, intelligence, and inspiration."  San Francisco Chronicle, 9/26/10The story of what the author calls her zombie movie pregnancy, where practically everything that can go wrong does.  Hysterical and heartbreaking all in the same breath.
Library Journal, 10/7/10
A much-wanted pregnancy gone tragically awry is almost too painful to read, but Stevenson's appealing voice and her transformation from neurotic worrywart to competent mother and advocate for her extremely premature daughter carry readers through her tears, laughter, IVs, and grotesque medical procedures. Entering the Neonatal ICU with her micro premie, Simone, while grieving the in utero death of Simone's twin brother, the normally anxious Stevenson is forced to get over herself. She would never call herself heroic, but it's OK if we do. What I'm Telling My Friends: Stevenson's descriptions of Simone's struggles may cause you to get teary, but it is fabulous to read a book where someone grows up and turns into a better person as a result of a terrible experience.
Coverage from NPR
or
Not Currently Available for Direct Purchase