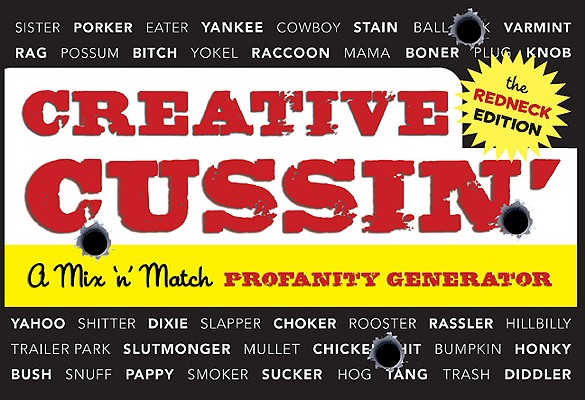 Creative Cussin', the Redneck Edition
A Mix 'n' Match Profanity Generator
Spiral

* Individual store prices may vary.
Description
"Creative Cursing: A Mix 'n' Match Profanity Generator" brought dirty delight and uncensored verbal abuse to audiences everywhere. Now, filthymouths Sarah Royal and Jillian Panarese are back at it again with a second edition, another flippable curse-word generator, but with a deliciously trashy twist.
Packed with endless combinations of the smuttiest words either side of the Mississippi, "Creative Cussin'," the redneck edition packs more ammo than your rusted shotgun. Put your rifle back under your pillow and break open this book to any two pages to hurl some insults at unsuspectin' foes. Violence ain't never the answer--but cussin' is.
Running Press Book Publishers, 9780762440153, 128pp.
Publication Date: July 13, 2010
About the Author
Sarah Royal rides bikes, writes 'zines, and laughs her fanny bucket off about everything. She is currently in a long-distance love affair with her home state of New Jersey. She lives in Portland, Oregon.Jillian Panarese has worked in enough restaurants to have heard a smorgasbord of indignities to keep her talking like a sailor for a lifetime. She's a damned good cook, and lives in Bloomsbury, New Jersey.