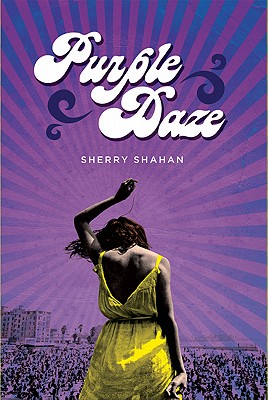 Purple Daze
Hardcover

* Individual store prices may vary.
Other Editions of This Title:
Paperback (7/31/2012)
Description
Purple Daze is a young adult novel set in suburban Los Angeles in 1965. Six high school students share their experiences and feelings in interconnected free verse and traditional poems about war, feminism, riots, love, racism, rock 'n' roll, high school, and friendship.
Although there have been verse novels published recently, none explore the changing and volatile 1960's in America-- a time when young people drove a cultural and political revolution. With themes like the costs and casualties of war, the consequences of sex, and the complex relationships between teens, their peers, and their parents, this story is still as relevant today as it was 45 years ago.
Praise For Purple Daze…
Tim Wynne-Jones, author of The Uninvited
"Purple Daze is an explosion: a moment in time smashed into a thousand glinty, sharp-edged pieces, precise and dazzling."
Valerie Hobbs, author of Sheep, California Young Reader Medal
"I stayed up half the night reading Purple Daze and didn't want it to end. Ziggy, Mickey, Cheryl, and Phil have found a permanent home in my heart."
Ron Koertge, award-winning author of Strays
"Sherry Shahan took me right back to the 60's with this deftly-written, politically charged novel-in-verse. Be warned -- "Purple Daze" will put a spell on you, too!"
Rita Williams-Garcia, author of "One Crazy Summer," National Book Award Finalist, Newbery Honor, Scott O'Dell Historical Award, Coretta Scott King Author
"Shahan's PURPLE DAZE puts us on the front lines of funky times, from Los Angeles to Da-Nang. A far out, implosive, psychedelic trip that ends in indictment. This is spectacular."
VOYA
, April 2011
"Shahan captures the tension and desperation of '60s young people who were caught up in the events, while also highlighting the chaos with song lyrics.  
PURPLE DAZE
will enable young adults to identify on a personal level with
The Things They Carried
by Tim O'Brien (Houghton Mifflin, 1990), which is often included in curriculum lists."  
Taylor Lovett, Duxbury Free Library Teen Galley Reader
"It's a fast read and the story is really thought consuming.  It also incorporates history.  I could not stop reading until I was finished."
Book End Babes.com 1/18/11
"Sometimes a book can surprise you. Sometimes you open a book and don't know what to make of it. Sometimes you stay up until midnight reading a book and then stay up until three, reading it again. Sometimes all three are true, and (for me) that was the case with YA novel PURPLE DAZE by Sherry Shahan"
Catherine Ryan Hyde, author of 14 novels, including Pay It Forward
"A raw and stunning portrait of the 60's. For those who lived them,
Purple Daze
will bring your past to life. For those who didn't, this story will make you feel as though you did." 
Wendelin Van Draanen
"Compelling authenticity and emotional force." 
Ron Koertge
"Deftly written, politically charged…
Purple Daze
will put a spell on you." 
Zoe Jovanovich, Sno-Isle Mukilteo Library, YALSA Teen Reader
The most compelling aspect of this book was the time period. Most historical fiction books I see for young adults are generally in the 1800s, or around that time; after a while when I hear "historical fiction" I immediately think of that time period. It was really refreshing to read this book. I also loved how the author jumped right into these teenagers' lives and had little historical blurbs throughout the book, subtly connecting the characters to them. It made it seem all the more real, as if the characters were really there. Also, the introduction to 1966 and the 1965 timeline at the end of the book really gave a sense of completion… Even though this was a really quick read, the format fit the book, which is another reason why it was so interesting. The poetry, letters, and journals were a refreshing change. 
New York Journal of Books
, March 2011
Purple Daze
is a cutting-edge novel, strategically written to keep you wanting more as you delve deeper into the love and conflict of the rocky 1960s.
Told from the viewpoints of six main characters—Ziggy, Mickey, Phil, Nancy, Cheryl, and Don—
Purple Daze
gives the reader a dynamic experience of both the social and political ups and downs of a critical time in history. Not being your average historical fiction novel,
Purple Daze
is a combination of letters, journal entries, notes, and newspaper clippings jaggedly put together in free verse to express a timeline of war, relationships, political movements, and rock 'n' roll.
Although sometimes hard to follow along, this story provides an insight into the mindset of teens during the year 1965, specifically into their exciting, sometimes funny, and always dramatic lives. Through life changing experiences like witnessing firsthand the Vietnam War, these six friends find themselves and discover the true meaning of friendship and sticking by what you believe in.
Slammed by the consequences of their actions, whether with relationships, parents, partying, or high school, Ziggy, Mickey, Phil, Nancy, Cheryl, and Don eventually grow up and learn to make the right choices. Touching upon controversial issues during this time, Sherry Shahan effortlessly describes how the six teens deal with whatever hits them; yet despite the plethora of action, Ms. Shahan manages to develop and maintain the characters' individual personalities and perspectives throughout the entire story.
Eccentric yet tasteful,
Purple Daze
is uniquely and beautifully written, highlighting author Shahan's one-of-a-kind writing style and technique. Whether the reader is looking for a blast from the past purposefully executed, or a rollercoaster ride of a novel, Purple Daze is sure to please both young adult and adult audiences.
School Library Journal
"Infidelity, abortion, friendship, grief, personal growth, and forgiveness are just some of the issues involved... Reluctant readers may be the best audience to enjoy this fast ride through the period."
Bethesda Library Teen Galley Reader
"It seems nothing's changed from the '60's and present day. Purple Daze touches on all the issues that still are alive today, and show how badly people were affected by them. Filled with teen angst, heart break, love, racism, and much more, Purple Daze is a must read."
Running Press Kids, 9780762440719, 207pp.
Publication Date: March 22, 2011
About the Author
Sherry Shahan is both an author and a photo illustrator. She has written more than 30 children's and YA books in her lifetime, including the bestselling Alaskan-based adventure, Frozen Stiff. Sherry loves to travel which has been an inspiration for many of her books. When she isn't riding through Africa on horseback or on dogsleds in Alaska, you will probably find her dancing whether it be on ice-capped mountains or in dance contests.
or
Not Currently Available for Direct Purchase