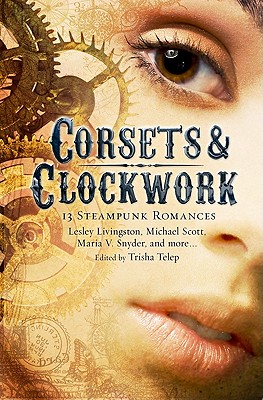 Corsets & Clockwork (Paperback)
13 Steampunk Romances
Running Press Kids, 9780762440924, 437pp.
Publication Date: April 26, 2011
* Individual store prices may vary.
Description
Dark, urban fantasies come to life in the newest collection of Steampunk stories, Corsets & Clockwork. Young heroes and heroines battle evils with the help of supernatural or super-technological powers, each individual story perfectly balancing historical and fantastical elements. Throw in epic romances that transcend time, and this trendy, engrossing anthology is sure to become another hit for the fast-growing Steampunk genre!
This collection features some of the hottest writers in the teen genre, including: Ann Aguirre, Jaclyn Dolamore, Tessa Gratton, Frewin Jones, Caitlin Kittredge, Adrienne Kress, Lesley Livingston, Dru Pagliassotti, Dia Reeves, Michael Scott, Maria V. Snyder, Tiffany Trent, and Kiersten White.
Praise For Corsets & Clockwork: 13 Steampunk Romances…
Layla Schaeffer, Duxbury Free Library YALSA Teen Reader
"As soon as you open the book, you are swept into these places that are so different, yet have parallels in the real world…it seems that all of these places could replace their counterparts in the real world… There were only 13 stories. I need more! Rated: Hard to imagine a better book."
Horn Books' Out of the Box blog 8/18/11
"…authors such as Caitlin Kittredge, Dia Reeves, Kiersten White, and Adrienne Kress write the steamier side of steampunk, where "technomagical and natural desires collide." This naturally means lots of flirting and first kisses (with gorgeous automatons or gentlemen criminals, aboard airships, or after narrowly escaping mad inventors); it also entails deeper ethical concerns about technology, progress, and humanity's impact on nature."
or
Not Currently Available for Direct Purchase