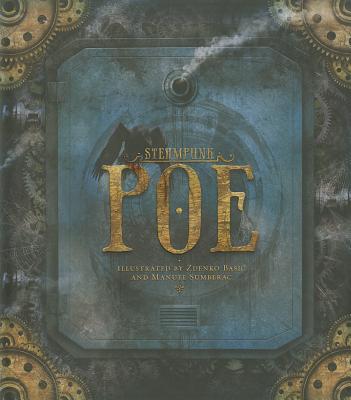 Steampunk
Poe
Hardcover

* Individual store prices may vary.
Description
If you combined clockwork gears, parasols, and air balloons with Edgar Allan Poe, what would you get? Steampunk: Poe! This is the first collection ever of Poe stories illustrated with the influence of steampunk. Running Press Teens has selected some of the most popular, thrilling, and memorable stories and poems by the classic 19th century American writer whose literary talent continues to open the mind to countless interpretations.
Every Poe story and poems is fully illustrated with steampunk-inspired artfrom 1920s aviation gear to elaborate musical instrumentscreating a fresh perspective on his work containing bizarre characters of madmen and mystery. Just in time for Halloween, Steampunk: Poe is the perfect classic horror choice with a haunting steampunk twist!
Praise For Steampunk: Poe…
James Floyd Kelly, Wired
"If you've read little to nothing of Edgar Allan Poe, this hardback collection is a nice introduction to a good mix of his styles (comedy, horror, detective). And the text has not been edited — you'll find Poe's typical style of writing that often involves sentences that can run into almost complete paragraph-length descriptions…My steampunk library grows constantly, and while there are many books on my shelf that I've enjoyed over the years, only a small number exist that I'll reach for in years to come for a re-read. Steampunk Poe is one of those."
Teen Librarian's Toolbox
"The marriage of Poe and steampunk is genius; if ever there was a writer that fit right in with the steampunk genre it would be Poe… 4 Stars"
Montreal Gazette
"Basic and Sumberac find details that inspire atmospheric steampunk images…lavishly coloured and stylized…"
Running Press Kids, 9780762441921, 263pp.
Publication Date: October 4, 2011
About the Author
Zdenko Basic is the illustrator of many books for children including Seven Sorcerers, The Dream Dealer, and Alice's Adventures in Wonderland. He is the director of the critically acclaimed short film Guliver, and works as a costume and set designer for the Merlin Theater. He was the recipient of the 2008 Grigor Vitez award for Best Illustration in Children's Books and also the 2009 Croation Association of Artists of Applied Arts award for Best Young Artist.Manuel Sumberac has often worked in conjunction with Zdenko Basic to create works of art, including the short film Guliver. He has co-illustrated a number of children's cover illustrations for books including 13 Curses and Hidden Kingdom. He recently served as the sole director and producer of the short film Escargot. He attends school in Zagreb, Croatia.
or
Not Currently Available for Direct Purchase