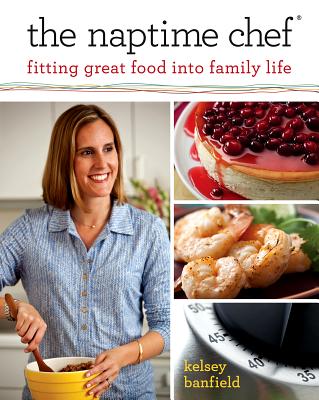 The Naptime Chef (Paperback)
Fitting Great Food Into Family Life
Running Press Book Publishers, 9780762442126, 224pp.
Publication Date: March 6, 2012
* Individual store prices may vary.
Description
Having children changes your life, but it doesn t have to change what you cook. Like her blog, www.TheNaptimeChef.com, Banfield's cookbook is equal parts pragmatic parent and ardent foodie. The result is a tasty playbook of meals, made over to save time without compromising taste. Some favorites are the 45-minute artichoke lasagna, assembled in the morning or afternoon and held in the fridge until dinnertime; a roast chicken that's rubbed down with herbs in the morning stays moist and flavorful when roasted later in the evening; a French toast casserole that can be tossed together the night before and popped in the oven in the morning for a special breakfast. Soups, salads, veggies, sides, main courses, and desserts are all adapted to the time that you have whether it's during naptime, before bedtime, in the morning, or on the weekends without sacrificing quality or flavor. Take back dinner, one dish at a time
About the Author
Kelsey Banfield is the founder and editor of TheNaptimeChef.com, and producer of The Naptime Chef Cooking Show, found online. She writes for various other publications including Babble and New York Family Magazine's Yummy Delicious blog. She lives in Southern Connecticut with her husband and her daughter, who still takes afternoon naps.
Praise For The Naptime Chef: Fitting Great Food Into Family Life…
Sara Kate Gillingham-Ryan, Founding Editor of Apartment Therapy's TheKitchn.com, and author of GOOD FOOD TO SHARE
"What I love about Kelsey's approach to cooking is that she doesn't use her role as a parent as an excuse to compromise the quality or frequency of her cooking. As mothers, Kelsey and I agree that cooking for a family should inspire rather than limit possibilities in the kitchen. In The Naptime Chef, Kelsey takes her favorite recipes, from Four-Bean Chili Mole to Black Bottom Peanut Butter Pie, and tweaks them so that they can be prepared while the baby naps. Baby or not, this book will help anyone who thinks they're too busy to cook to absolutely flourish in the kitchen."
Amanda Hesser and Merrill Stubbs, co-founders of FOOD52.com
"At last, a cookbook for parents that doesn't push you away from the kitchen! Kelsey Banfield has done all the hard work for us—coming up with inventive, delicious recipes that you can get done in your down time, and helping us all eat well." 
Laurie David, producer and author of
THE FAMILY DINNER
"Kelsey's book is one more great weapon in your arsenal for making sure that a home-cooked family dinner happens in your house, even with babies underfoot."
Library Journal
"Great for new parents."
NY Family Magazine
"a boon for parents"
Gluten is My Bitch blog
"The Gen X Martha Stewart has a whole book full of delicious, and easy (she makes them during her daughter's naptime—get it?) recipes that make you feel happy inside."
Chicago Tribune
"Naptime for baby is often naptime for exhausted parents as well. They may want to reconsider how that time is spent with this smart book. Every one of Banfield's recipes comes with a "Naptime stopwatch" telling you how much time you need to prepare the dish and cook it while your child is sleeping. Founder and editor of The Naptime Chef (thenaptimechef.com), this mom from Fairfield, Conn., proves that you don't have to give up great home cooking after the baby arrives, just shift strategies to keep the flavor but be more efficient."
or
Not Currently Available for Direct Purchase