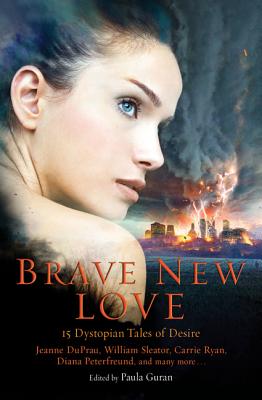 Brave New Love (Paperback)
15 Dystopian Tales of Desire
Running Press Kids, 9780762442201, 392pp.
Publication Date: February 14, 2012
* Individual store prices may vary.
Description
Young love has always had its challenges, but even so, the world falling apart at its seams is a pretty big obstacle. This stellar collection of YA dystopian tales explores survival of the fittest in terms of love, passion, and humanity. When the survival of the human race is at stake, what will it take for the bond between two people to hold strong together?
Featuring some of the most well known and best-selling names of the dystopian genre, as well as the hottest up-and-coming authors, this anthology includes works from Jeanne DuPrau (City of Ember), Kiera Cass (The Selection), William Sleator (Interstellar Pig), Jesse Karp (Those That Wake), Diana Peterfreund (Secret Society Girl), Carrie Vaughn (The Kitty Norville Series), and Carrie Ryan (New York Times bestseller The Forest of Hands and Teeth).
About the Author
Paula Guran is a senior editor at Prime Books and editor at Juno Books, a fantasy imprint of Pocket Books. She edits the annual Year's Best Dark Fantasy & Horror anthology series and has been honored with two Bram Stoker Awards and two World Fantasy Award nominations. She has a daughter and three sons and lives in Akron, OH.
Praise For Brave New Love: 15 Dystopian Tales of Desire…
San Francisco Book Review/Sacramento Book Review
"Teens and adults will delight in the short fiction contributed to this title by fifteen of today's hottest dystopian writers… I enjoyed seeing fifteen different worlds for the price of one book and I loved the fact that this compilation was filled with diversity of race and sexual orientation. I haven't seen very many anthologies deal with dystopian environments, but I do think that Brave New Love did it well, and the obvious play on Huxley's Brave New World title is relevant and smart. The volume reads fast and gives the reader much to ponder. Highly recommended."
Mukilteo Library
"A fascinating anthology with strong writers contributing their best. With stories ranging on the spectrum from blatant in-your-face problems to subtle commentary and abstract points about society the collection has a short story for every reader to enjoy."
or
Not Currently Available for Direct Purchase