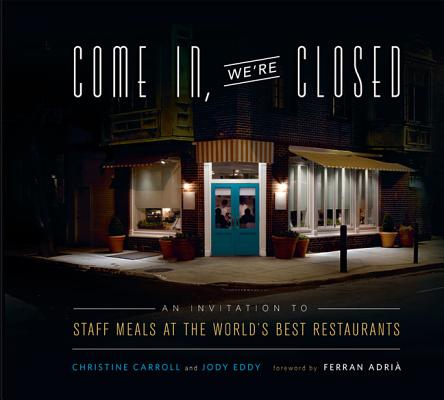 Come In, We're Closed (Hardcover)
An Invitation to Staff Meals at the World's Best Restaurants
Running Press Adult, 9780762442621, 320pp.
Publication Date: October 2, 2012
Description
Peer behind the "closed" sign in the world's greatest restaurants, and you may glimpse a packed table whose seats are elusive even to the most in-the-know diner: the daily staff meal. This insider's look goes behind the scenes to share the one-of-a-kind dishes professional cooks feed each other.
Join authors Christine Carroll and Jody Eddy as they share these intimate staff meal traditions, including exclusive interviews and never-before-recorded recipes, from twenty-five iconic restaurants including: Ad Hoc in Napa, California; Mugaritz in San Sebastian, Spain; The Fat Duck in London, England; McCrady's in Charleston, South Carolina; Uchi in Austin, Texas; Michel et S bastien Bras in Laguiole, France; wd 50 in New York City, New York, and many more. Enjoy more than 100 creative and comforting dishes made to sate hunger and nourish spirits, like skirt steak stuffed with charred scallions; duck and shrimp paella; beef heart and watermelon salad; steamed chicken with lily buds; Turkish red pepper and bulgur soup; homemade tarragon and cherry soda; and buttermilk doughnut holes with apple-honey caramel glaze. It's finally time to come in from the cold and explore the meals that fuel the hospitality industry; your place has been set.
About the Author
Christine Carroll traded in a career as a scientist for the life of a line cook nearly a decade ago while living in England. Since then, she has graduated from the French Culinary Institute, tested recipes for Saveur, and served as Director of the Bowery Culinary Center for Whole Foods Market Manhattan. A contributor to Edible D.C., she also founded CulinaryCorps, the nation's first volunteer service organization for culinary professionals. She lives in Washington D.C. with her husband and toddler. Jody Eddy is the author of www.jodyeddy.com and contributes to several print and web publications including Food Arts, Plate Magazine, Culinary Trends, and Kinfolk Magazine. She has cooked in the kitchens of Jean Georges, Tabla and The Fat Duck and is an instructor at several culinary schools throughout America. She is the former Executive Editor of Art Culinaire Magazine and is a graduate of the Institute of Culinary Education in Manhattan. She lives in New Jersey.
Praise For Come In, We're Closed: An Invitation to Staff Meals at the World's Best Restaurants…
From the foreword:
Ferran Adrià, author of The Family Meal and owner of elBulli
"...From the hands of Jody and Christine, we are given the opportunity to enjoy staff meals around the globe."

The Daily Meal
"A great picture of different restaurants across America and Europe!"
Advertisement