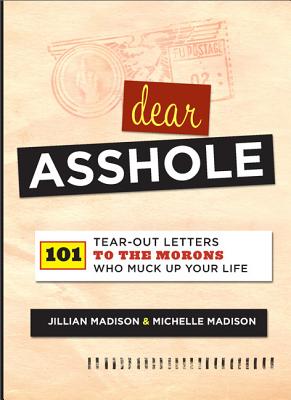 Dear Asshole
101 Tear-Out Letters to the Morons Who Muck Up Your Life
Paperback

* Individual store prices may vary.
Description
Dear Asshole includes 101 letters to tell off all the assholes you encounter on a daily basis, each letter conveniently perforated so you can tear it out and give it to the desired offender.
The world is full of assholes -- but now you can fight back! Ever wish you could leave a nasty note for that jerk meter maid who ticketed you, or the idiot who didn't clean up after his dog, or your asshole psychotic ex? Now you can! Whether it's the asshole landlord, the asshole cheapskate, the asshole backseat driver, or the constantly cheery asshole, you should never leave home without this useful book ever again!
Letters include:
Dear Asshole Who Stole My Parking Space
Dear Asshole Who Doesn't Know How to Use Self-Checkout
Dear Contagious Asshole
Dear Constantly Broke Asshole
Dear Online Dating Asshole Who Lied About Their Looks
Dear Asshole Boss
Dear Fanatically Religious Asshole at My Door
And more!
Praise For Dear Asshole: 101 Tear-Out Letters to the Morons Who Muck Up Your Life…
Zink Magazine
"This book will not only have you bent over from laughter, but you end up realizing that there are a lot of annoying people in the world."
Chicago Tribune
Tired of being the bigger person? Though it's not the most enlightened strategy, sometimes all you want is to tell a creep off with a brilliant comeback — which, inevitably, doesn't come to mind until hours later… The new book lets you eloquently vent your rage at life's annoying cast of characters, such as the "(blank) boss," the "overly competitive (blank)," the "social media-obsessed (blank)" and the "(blank) who left dirty dishes in the sink" ("P.S. It's been two weeks. Exactly how much longer does that pot need to 'soak'?")
—
-
Running Press Adult, 9780762442867, 208pp.
Publication Date: August 2, 2011
About the Author
Jillian Madison and Michelle Madison are the creators of several pop culture websites and podcasts including FoodNetworkHumor.com, Pophangover.com, and DamnYouAutoCorrect.com. Jillian is also the author of Damn You Autocorrect! They live in Connecticut.
or
Not Currently Available for Direct Purchase