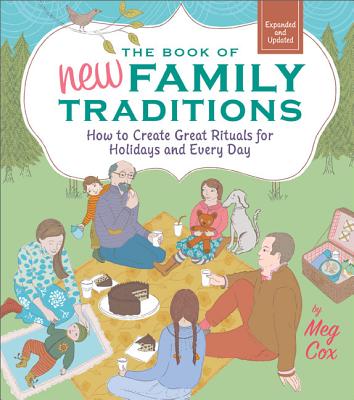 The Book of New Family Traditions (Revised and Updated) (Paperback)
How to Create Great Rituals for Holidays and Every Day
Running Press Adult, 9780762443185, 288pp.
Publication Date: May 22, 2012
Other Editions of This Title:
Paperback (4/1/2003)
* Individual store prices may vary.
About the Author
Meg Cox is a journalist, author, and expert in family traditions, and is a regular on NPR's Parent's Journal. A former reporter for "The Wall Street Journal, " she now writes for "Family Fun, Good Housekeeping, Parenting, " and "Cooking Light." She lives in Princeton, NJ. Please visit her at megcox.com.
Praise For The Book of New Family Traditions (Revised and Updated): How to Create Great Rituals for Holidays and Every Day…
Jeffrey Zaslow, bestselling author of The Girls From Ames and co-author of The Last Lecture 
"Meg Cox has a gift for finding unique and heartfelt ways to celebrate and deepen the love within families. This book will make your family life richer."

Laurie David, bestselling author of The Family Dinner Book: Great Ways to Connect With Your Kids One Meal at a Time
"Rituals and traditions make for happy children and happy families. When people look back on their childhood, it's not the big trips or presents that they remember, but the rituals that evoke the cozy, warm memories. Meg has a book full of ideas for how you can create memorable moments for your children...and yourselves."

Bobbi Conner, author of Unplugged Play: No Batteries. No Plugs. Pure Fun
"The Book of New Family Traditions inspires parents to create their own joyful and comforting rituals to define and sustain their family. This terrific book has hundreds of ideas to make family life more fun and memorable."

Naomi Drew, author of No Kidding About Bullying, LearningPeace.com
"This book is truly amazing! I only wish I had it when my children were young. Meg's wonderful rituals are sure to enrich every life they touch. Her book has the power to fill homes with more connection, creativity, peace and happiness. If there's one thing I could say to parents, it's 'Get it Now!'"

Jennifer Grant, mother of four, journalist and author of Love You More: The Divine Surprise of Adopting My Daughter, and MOMumental: Adventures in the Messy Art of Raising a Family
"I'm grateful to have discovered Meg Cox's traditions work when my children were very small. Thanks to her, rituals are an integral and cherished part of my family's culture. As she says in The Book of New Family Traditions, ritual not only helps us create wonderful memories, but unifies my family as we negotiate transitions or other tricky times. We celebrate everything from the beginning of the school year to Groundhog Day to winter's first snow in rich and deliberate ways, thanks to her practical and creative ideas. Enjoy this book: mark it up, fold down page corners that spark your imaginations, and use it as a favorite resource. If your copy ends up looking anything like mine, you and yours will be all the happier for it."

Michael Gurian, bestselling author of The Wonder of Boys and The Wonder of Girls
"Writing as both a highly trained journalist and a mother, Meg Cox has produced a rich but user-friendly guide for creating meaningful traditions at every stage of a child's life. Her section on milestones and rites of passage is especially needed, because our culture today is so sadly lacking in meaningful coming-of-age rituals."

Julie Tallard Johnson, MSW, LCSW, author of The Thundering Years: Rituals & Sacred Wisdom for Teens and The Wheel of Initiation: Practices for Releasing Your Inner Light
"I was excited to hear of Meg's new and updated version of The Book of New Family Traditions. The original was already a longstanding favorite of mine both personally and in my counseling work. The Book of New Family Traditions is rich with simple yet meaningful rituals for the entire family. I appreciate how Meg provides ideas from traditions and rituals around the world, and ones that touch a plethora of personal and family situations. She helps us acknowledge and celebrate our lives."

Amanda Blake Soule, author of The Creative Family: How to Encourage Imagination and Nurture Family Connections, SouleMama blog
"The Book of New Family Traditions, long a family favorite of ours, just got even better with the release of this new edition. Chock-full of ideas and inspiration, Meg provides traditions and rituals from all corners of the world for all situations of a family, in addition to guiding us to create our very own. There are ample ways in which to celebrate the special holidays of our year within the pages, but more importantly are the ways she encourages us to celebrate the Everyday in the lives of growing families. Surely it is these ordinary, but special moments spent together in family life that our children will carry into their lives and we - as parents - will hold in our hearts."

Edith Wagner, editor, Reunions magazine
"Meg Cox vividly captures the essence of countless rituals, including the ultimate ritual: the family reunion. Parents will find inspiring specific rituals and celebrations practiced by diverse families, plus the author's 'ritual recipes' for creating meaningful new traditions of their own."
or
Not Currently Available for Direct Purchase