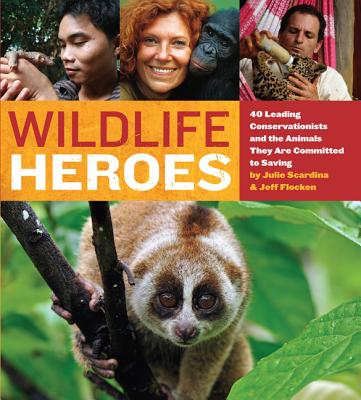 Wildlife Heroes
40 Leading Conservationists and the Animals They Are Committed to Saving
Paperback

* Individual store prices may vary.
Description
With one-third of known species being threatened with extinction, wildlife conservationists are some of the most important heroes on the planet, and Wildlife Heroes profiles the work of 40 of the leading conservationists and the animals and causes they are committed to saving, such as Belinda Low (zebras), Iain Douglas-Hamilton (elephants), Karen Eckert (sea turtles), S.T. Wong (sun bear), Steve Galster (wildlife trade), and Wangari Maathai (habitat loss). Since we all should have an interest in conservation, there is a chapter providing information on ways people can get involved and make a difference. Chapter introductions are by author Kuki Gallmann, actor Ted Danson, actress Stefanie Powers, Congressman Jay Inslee, and TV personality Jack Hanna.
Praise For Wildlife Heroes: 40 Leading Conservationists and the Animals They Are Committed to Saving…
Publishers Weekly
"Environmental advocates Scardina and Flocken profile the grassroots organizations, tenacious scientists, and willful philanthropists that shape today's conservation policy and practice. Each portrait centers on a threatened or endangered species and describes the life and work of the person who has dedicated his career to protecting the species from extinction. Organized into sections corresponding to the four elements—Earth, Water, Air, and Fire—with introductory essays by celebrities like Ted Danson, the subjects are grouped according to their habitat, with "Fire" focusing on the broader threats to the world's ecosystems. The pithy summaries of the activists' struggles are accompanied by informative tidbits about the biology, behavior, natural history, and cultural context of the target species, along with delightful photographs of both human and beast. From the grassland-dwelling maned wolf of Central South America to the iceberg-hopping emperor penguin of Antarctica, the book shows how negative human interference imperils the welfare of all living things, and suggests that by taking an active role in conservation, education, and community building, we can help prevent the tragic loss of the world's biological diversity."
Running Press Adult, 9780762443192, 264pp.
Publication Date: March 6, 2012
About the Author
Julie Scardina
is the Sea World, Busch Gardens, and Discovery Cove Animal Ambassador. She serves on the board of the SeaWorld & Busch Gardens Conservation Fund and is actively involved with several other conservation organizations including the World Wildlife Fund. Julie has appeared on
Larry King Live
and
Dr. Oz
. She is a monthly guest on the
Today Show
and a regular guest on
The Tonight Show
with Jay Leno as she has for the past 14 years.
Jeff Flocken is the DC Office Director for the International Fund for Animal Welfare (IFAW). He also works on campaigns conserving whales, polar bears, elephants, lions, and a variety of other species through this position. Jeff worked for five years as an International Affairs Specialist in the U.S. Fish & Wildlife Service's Division of International Conservation. He lives in Arlington, VA.
or
Not Currently Available for Direct Purchase