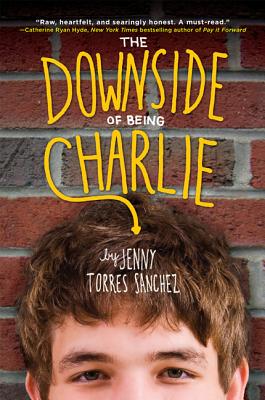 The Downside of Being Charlie
Paperback

* Individual store prices may vary.
Description
Charlie is handed a crappy senior year. Despite losing thirty pounds over the summer, he still gets called "Chunks" Grisner. What's worse, he has to share a locker with the biggest Lord of the Rings freak his school has ever seen. He also can't figure out whether Charlotte VanderKleaton, the beautiful strawberry lip-glossed new girl, likes him the way he likes her. Oh, and then there's his mom. She's disappeared--again--and his dad won't talk about it.
Somewhere between the madness, Charlie can at least find comfort in his one and only talent that just might get him out of this life-sucking place. But will he be able to hold his head above water in the meantime?
Praise For The Downside of Being Charlie…
Catherine Ryan Hyde, author of Pay It Forward and 17 other novels
"The Downside of Being Charlie is what you always hope a great Young Adult novel will be: raw, heartfelt, searingly honest coming-of-age emotion in a character who feels almost as important to you as you feel to yourself. This novel exceeds expectations in that and all other regards. If this is Jenny Torres Sanchez's debut novel, this is an author to watch. A must-read for YA fans."
David Yoo, author of The Detention Club and Stop Me If You've Heard This One Before
"An honest portrayal of an earnestly confused teen boy . . . a story that is both heartbreaking and hopeful at the same time."
TeenLibrariansToolbox.com
"I am here to tell you that The Downside of Being Charlie by Jenny Torres Sanchez is a really well written, thought provoking contemporary YA novel that reminds me of one of my favorite authors, Chris Crutcher…Jenny writes with wit and insight to help you along the journey that is The Downside of Being Charlie…Like the works of Chris Crutcher and other contemporary YA authors, Charlie is a relatable and discussable read.  And like those authors, Sanchez creates realistic teen characters, which in this case includes some harsh (though authentic) language and one bullying incident that involves marijuana.  This is a great debut novel and I look forward to reading more by Sanchez; she really captured the lives of teens and wrote a story that is compelling and moving.  She used to be a high school teacher which really shows in her writing - she gets teens.
The YA market has been dominated by fantasy and paranormal romance these last few years (which I don't mind at all), but this year it seems like there is a real renaissance of the cotemporary YA novel.  The year kicked off with the wonderful The Fault in Our Stars by John Green, and I believe this will be one of those contemporary novels that will be a part of the renaissance.  Fans of Chris Crutcher, Sarah Dessen and John Green will appreciate The Downside of Being Charlie. Highly recommended.
What they are saying on the Internet: "Realistically edgy and humorously dysfunctional". I agree wholeheartedly."
Jennifer Castle, author of The Beginning of After
"Charlie is a character you love spending time with -- through his ups and downs, his comedy and tragedy, those moments where you want to give him a hug and the times you just want to slap him to his senses. He is real, and his journey is a real treat. Jenny Torres Sanchez's debut strikes a delicate, heartfelt balance of honesty and wit."
Children's Literature
"Boys will likely identify with Charlie's self-reliance, while seeing into the mind of a boy will fascinate girls. This is a strong well-written book that takes a different perspective on a high school student's senior year. There are no pep rallies or fluffy high school events, only a boy determinedly trying to keep afloat in a world beyond high school."
School Library Journal
"Refreshing to have a book focusing on a young man's struggle with weight and body issues." 
Gaye Hinchliff, King County Library System

"Sanchez captivated me from the first line and kept me engaged throughout the entire story with the authentic voices of her believable characters. …The relatable issues of identity, family conflict, and high school drama are particularly appealing to teens…Hand it to a teen reader this summer!" 
Bethesda, MD Library
"The book was beautiful in that that it first held a mirror to the protagonist, then to his society as a whole, then to his family, and finally, back to himself. The plot was what really made the book in that it caught you halfway and refused to let you go." 
VOYA
"Sanchez has crafted a unique and moving story that will connect with teens." 
Seventeen.com book club
"Jenny Torres Sanchez has a talent for bringing a very serious issue to light in a way that teenagers can understand."
Publishers Weekly
"Peppered with sardonic humor, debut author Sanchez's confessional-style prose conveys Charlie's distress and confusion … Sanchez explores the psychological underpinnings of eating disorders while creating a complete  character in the closet-brilliant but perennially tongue-tied Charlie."
Kathleen Isaacs, Booklist
"The present tense, first-persona narrative, gives a good sense of the problem-plagued boy's reactions to his life...Boys with bulimia are too rare in teen fiction and Charlie comes across as a full-bodied characer, whose depression and hope seem very real."

Frenetic Reader blog
"the admirable, funny narrator and abundance of issues make it an enjoyable read."

Hopelessly Devoted Bibliophile blog
"THIS is the type of book that I feel young people should be reading. It's gritty, raw, and yes there is even some profanity, but at the end of the day it's real….Charlie Grisner will forever remain one of my top ten favorite characters. ….I could ramble on for days about this book, and how amazing it is….This is a book that makes you think. It makes you feel. Isn't that what reading is supposed to be all about?... Loved this book. Loved it with all my heart. The Downside of Being Charlie goes on my list of books that will be well-loved, dog-eared, and passed around as often as possible. Trust me, you want to read this. It's utterly fantastic."
In Bed with Books blog
"This terrific contemporary will appeal to a wide-range of YA readers.  The male narrator will hopefully interest guy readers in some of the "girly" topics covered by THE DOWNSIDE OF BEING CHARLIE.  I think Sanchez's is one of the best debuts I've read this year."

Galleysmith blog
"a good book with a message of self discovery. It was a quick and enjoyable read."
Running Press Kids, 9780762444014, 272pp.
Publication Date: May 1, 2012
About the Author
Jenny Torres Sanchez is an author and a former high school English teacher. She also writes short stories for adults rooted in her Hispanic culture. She lives in Florida with her husband and two children. Visit her blog at jennytorressanchez.com.