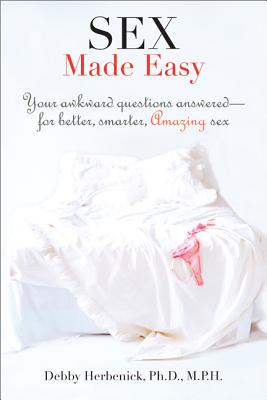 Sex Made Easy (Paperback)
Your Awkward Questions Answered-For Better, Smarter, Amazing Sex
Running Press Book Publishers, 9780762444069, 268pp.
Publication Date: April 3, 2012
* Individual store prices may vary.
or
Not Currently Available for Direct Purchase
Description
"Sex Made Easy" is a punch, direct, and no-nonsense guide that confronts those problems that often arise things that women are usually too embarrassed to talk about. Debby Herbenick is not just a scientist, but also a sex expert who has conducted important research at the Kinsey Institute for over a decade. But Dr. Herbenick has anticipated women's questionseverything from orgasms and erections to vibratorsand provides simple and frank answers. It will give readers the knowledge, skills, and confidence they need for a more fulfilling sex life.
About the Author
Debby Herbenick Ph.D, M.P.H. is Associate Director of the Center for Sexual Health Promotion at Indiana University and a sexual health educator at The Kinsey Institute for Research in Sex, Gender, and Reproduction. She is a widely-read sex columnist and her work has been covered in the New York Times, the Washington Post and on the Today Show. She is also the author of Because It Feels Good: A Woman's Guide to Sexual Pleasure and Satisfaction. Debby likes in Bloomington, Indiana. Please visit her at mysexprofessor.com.
Praise For Sex Made Easy: Your Awkward Questions Answered-For Better, Smarter, Amazing Sex…
Charlie Glickman, PhD, Education Program Manager, Good Vibrations
"One of the smartest sex guides I've read. Debby Herbenick has a gift for explaining sexuality--using science, personal experiences, her background as an educator, and the many stories her clients have shared with her. The entire book is full of helpful information, useful suggestions, and the supportive advice that most of us wish we'd heard earlier. No matter how much you know about sex, there are lots of great ideas in this book. Plus, Herbenick addresses the most common (and lots of uncommon) questions in every chapter, with compassion and clarity."

Logan Levkoff, PhD., author of How to Get Your Wife to Have Sex with You
"Even though sex is such a big part of our lives, it sometimes feels like we'll never get it right. Too many concerns and insecurities; too many mixed messages. Kiss those thoughts goodbye. This is really Sex Made Easy . . .and Debby Herbenick tackles our most intimate and embarrassing questions with dignity and tremendous expertise." 

Vanessa Schick, PhD, co-author of Read My Lips: A Complete Guide to the Vagina and Vulva
"With the warmth of a best girlfriend and the knowledge of one of the most acclaimed experts in the field, Dr. Herbenick breaks down everything you would ever want to know about sex in ways that are smart, sensitive and superbly fun.!"
 Jaclyn Fulwood, blogger, Infinite Reads
"For any woman who wishes someone would hand her an owner's manual for her sex life, Sex Made Easy, Debby Herbenick's straightforward collection of answers to 100 common sexual questions, is a must-have. Herbenick is a sex researcher, educator and columnist and no newcomer to awkward queries--she also answers questions on the Kinsey Institute's website Kinsey Confidential…Although Herbenick writes with a female audience in mind, readers of both genders will benefit from her knowledge. For better sexual understanding and satisfaction, pick up this classy yet candid read."
Advertisement