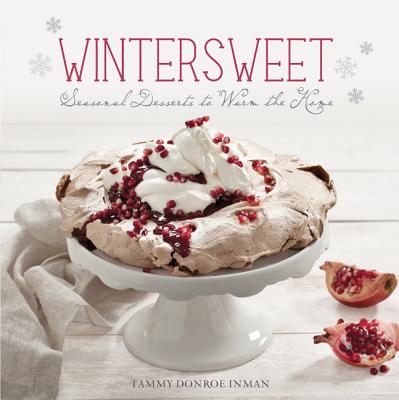 Wintersweet
Seasonal Desserts to Warm the Home
Hardcover

* Individual store prices may vary.
Description
Who says the winter months have to be bleak and barren? Author Tammy Donroe sees this season as an opportunity to stay inside, fire up the oven, and produce decadent desserts from the bounty of wholesome winter ingredients. Wintersweet encourages readers to make use of fresh, local ingredients for warming seasonal desserts. While summer farmers' markets are always overflowing with ripe produce, there's plenty to be had from November to March: squashes and pumpkins, parsnips and carrots, apples, pears, citrus of all types, and feel-good ingredients like nuts, cheese, and chocolate.
The fresh and rustic recipes in Wintersweet push the envelope of traditional winter desserts like pumpkin or apple pies with such delicacies as Pear Cranberry Clafouti, Spicy Prune Cake with Penuche Frosting, Tangelo Sorbet, and Goat Cheese Cake with Dried Cherry Compote. Each chapter is devoted to different ingredients, ranging from Persimmons, Pomegranates, and Cranberries to Citrus, Cheese, and Dried Fruits, allowing readers to experiment with new and exciting ingredients for complex and delicious flavors. They taste even better when they can be found near your own backyard; Donroe provides resources for finding the best local farmers' markets and agricultural centers near you. Perfect for holiday gatherings or to warm the belly on a cold night, Wintersweet is the perfect dessert companion to make the year's coldest season a bit more festive.
Running Press Book Publishers, 9780762445370, 280pp.
Publication Date: October 22, 2013
About the Author
Tammy Donroe has spent years sourcing the best local ingredients, from apples to zucchini. Her philosophy is simple: the fresher, the better for health, for flavor, for the soul. A graduate of the Cambridge School of Culinary Arts, she worked at Cook's Illustrated magazine and its television spin-off America's Test Kitchen and Boston Magazine. She writes at her humorous, delicious food blog, Food on the Food. She lives just outside of Boston with her husband and two sons.
or
Not Currently Available for Direct Purchase