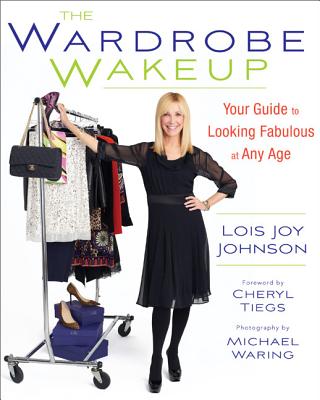 The Wardrobe Wakeup: Your Guide to Looking Fabulous at Any Age (Paperback)
Your Guide to Looking Fabulous at Any Age
Running Press Book Publishers, 9780762445844, 288pp.
Publication Date: December 23, 2012
Description
In a fashion world that constantly speaks to youth, The Wardrobe Wakeup, is an essential look book for every woman 40+. Leading fashion and beauty editor Lois Joy Johnson shares style-boosting, closet reviving, money-saving fashion tricks she's learned over thirty years working with A-list models, celebrities, and real women.

The Wardrobe Wakeup is packed with solutions to fashion dilemmas specific to women 40+, like: changes in skin that make baring legs, arms, and chest an uncomfortable experience; working with colleagues half your age or a boss twenty years younger; going on job interviews where the competition is thirty years old. Lois also addresses fashion problems surrounding lifestyle changes including the horrors of dating again, what's sexy vs. sleazy, and rethinking spending on clothes if living on investments or 401(k)s.

Featured in photos throughout are glam women 40+ in the fashion and beauty business. Each woman provides inspiration through interviews about their own style and fashion solutions at this time of life. In Lois's engaging point of view and straightforward approach, she teaches women to maximize their wardrobe
and feel fabulous at any age.

About the Author
As a top fashion and beauty editor, Lois Joy Johnson has spent 30+ years working with average women, models, and celebrities to redefine how women dress. She was one of the founding editors of MORE magazine and its beauty and fashion director from 1998 to 2008. Before that she was the beauty and fashion director of Ladies' Home Journal. In these roles she interviewed and photographed hundreds of women who changed forever the way women 40+ dress, shop, and think about clothes. The list includes trend-setting designers, top news achors, iconic models, and stylish celebs, among them Norma Kamali, Diane Von Furstenberg, Lauren Hutton, Christie Brinkley, Susan Sarandon, Diane Keaton, and Ann Curry. Lois lives in New York City.
Praise For The Wardrobe Wakeup: Your Guide to Looking Fabulous at Any Age…
With the help of some extraordinary women, Lois shows us that elegance is truly a discipline of life"
Oscar de la Renta

Praise for author's previous book, The Makeup Wakeup:

"Lois and Sandy will get you out of your beauty rut, boost your confidence, and show you that age is just a number."
Bobbi Brown

In a youth-obsessed culture, aging can be difficult. But celebrity makeup artists Johnson and Linter provide an age-defying beauty guide that enables women to minimize flaws and maximize their beauty. Unlike most beauty books, this resource focuses on the concerns of women entering middle age and beyond, such as sun damage, hormonal acne, sagging skin, fine lines, and thinning hair. Readers are given step-by-step makeup techniques and advice on how to deal with the inevitable changes and look their best. Celebrities and models also speak candidly about their beauty secrets and regimes. Included are color photos of actress Sigourney Weaver, singer Debbie Harry, and models Veronica Webb, Carol Alt, and Cheryl Tiegs, among others. The shots of models with and without makeup illustrate the differences correct techniques can make. For those considering cosmetic procedures, a team of medical experts discuss pros, cons, and alternatives.

Verdict: This book takes the fear out of getting older. The authors thoroughly cover what women can do to look good as they age. A highly recommended reference readers will turn to time and again."
Ajoke Kokodoko, Oakland P.L., Library Journal Express 3/25/11

full of sharp advice"
Oprah.com, April 2011
Advertisement