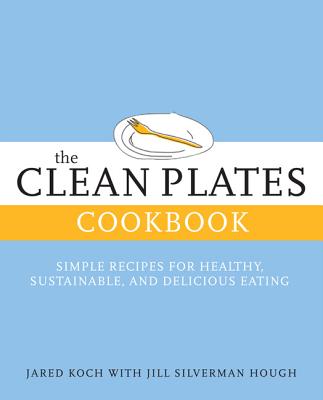 The Clean Plates Cookbook (Paperback)
Sustainable, Delicious, and Healthier Eating for Every Body
Running Press Adult, 9780762446476, 304pp.
Publication Date: December 23, 2012
* Individual store prices may vary.
Description
Jared Koch's first book, Clean Plates Manhattan, demystified "clean eating" and mapped out healthy restaurant options all over New York. Continuing in the extremely timely topic of eating clean, organic, and well, his second book, The Clean Plates Cookbook, offers sensible, sustainable, and healthful home cooking for anyone interested in integrating good foods into their lives. It shows readers how to shop for the best ingredients no matter what their diet (omnivores, vegetarians, and vegans can all "eat clean") and how to prepare food that's simple and delicious. Tips and inspiration from chefs and nutrition experts appear throughout the book, and the invaluable resources section breaks down the recipes by category and offers more of his clear and useful shopping guides.

Clean eating is anything but boring: recipes cover beverages, breakfasts, snacks, inventive entr es, and desserts with things like Quinoa Carrot Muffins, Cracked Wheat Sushi, Wild Mushroom Gratin, Lamb Tikka Masala, and Cocoa Cherry Brownies.

About the Author
Jared Koch is a health coach, nutritional consultant, and the author and publisher of Clean Plates Manhattan, a guidebook that has sold 20,000 copies in two years. Koch and the Clean Plates web site have been featured in multiple mainstream press outlets, including ABC News, NBC New York, Good Day NY, Martha Stewart, and Good Morning America Health. Koch is also a sought-after speaker, including engagements at Google, MTV, Sony, Merrill Lynch, Bank of America, Wellpoint Insurance, Time Warner, and Whole Foods. Clean Plates has been endorsed by numerous well-known doctors and celebrities, including Deepak Chopra, Mark Hyman, Dean Ornish, and Mariel Hemmingway. Jill Silverman Hough is a cookbook author, food and wine writer, recipe developer, and culinary instructor. She's written 100 Perfect Pairings: Small Plates to Enjoy with Wines You Love and 100 Perfect Pairings: Main Dishes to Enjoy with Wines You Love. Other book projects include developing the recipes for Skinny Bitch in the Kitch, a New York Times bestseller.
Praise For The Clean Plates Cookbook: Sustainable, Delicious, and Healthier Eating for Every Body…
Praise for Clean Plates Manhattan:

Deepak Chopra, M.D.
"Jared's nutritional advice in Clean Plates has the power to transform your individual health and our collective well-being."

Dean Ornish, M.D., bestselling author of Eat More, Weigh Less
"Knowledge is power, and awareness if the first step in healing. Clean Plates NYC is a highly valuable source of information…"

Donna Karan, fashion designer and founder of the Urban Zen Foundation
"It all starts with the body. The Clean Plates approach to healthier food and dining gives us the tools to make a difference for our bodies and the communities we live in. In this book, the simple recipes are flexible and nutritious, as well as a feast for the eyes. Jared Koch's vision for Clean Plates — the restaurant guide and now the cookbook — honors the mind, body and spirit in a healthy and sustainable way. I love it."
or
Not Currently Available for Direct Purchase