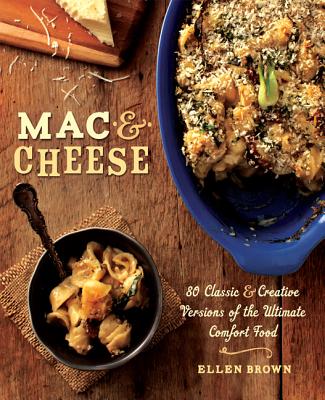 Mac & Cheese: 80 Classic & Creative Versions of the Ultimate Comfort Food (Paperback)
80 Classic & Creative Versions of the Ultimate Comfort Food
Running Press Book Publishers, 9780762446599, 192pp.
Publication Date: September 11, 2012
Description
Creamy, cheesy, rich, and comforting, macaroni and cheese is the favorite side dish for all generations From classics with various cheeses to more exotic fare--with lobster, vegetables, pancetta, beef, and many more combinations--this timeless standard deserves a second look.
Consider the Goat Cheese and Boursin Mac and Cheese, Chesapeake Crab Mac and Cheese, or Mac and Cheese Souffle with Country Ham for a dinner party, a book club meeting, or a holiday side dish. Start with Mac and Cheese Canapes or Mac and Cheese Spring Rolls, and then have Grand Marnier Orzo Pudding or Macaroni with Pecan Caramel Mascarpone for a sweet dessert
Author Ellen Brown has collected and developed more than 80 recipes, most of which are adapted from beloved dishes from restaurants around the country like Red Rooster in New York, Nosh in Dallas, and The Tipsy Pig in San Francisco. Recreate your favorite cheesy restaurant dishes at home: the sky's the limit for the humble mac & cheese.

About the Author
Ellen Brown is a 30-year veteran foodie. She is the author of more than 30 cookbooks, including several Complete Idiot's guides and Scoop: 125 Specialty Ice Creams from the Nation's Best Creameries. She is the founding food editor of USA Today. Her writing has appeared in major publications including The Washington Post, The Los Angeles Times, Bon Appetit, Art Culinaire, and The San Francisco Chronicle, and she has a weekly column in the Providence Journal. She lives in Providence, Rhode Island.
Praise For Mac & Cheese: 80 Classic & Creative Versions of the Ultimate Comfort Food…
John Mariani, Food & Travel Correspondent, Esquire Magazine
"Fabulous!!! One of the only times I can say I'd actually like to make every recipe in there!"

Larry Cox at What's Cooking?, TucsonCitizen.com
"The recipes in this collection are fairly easy to prepare and accessible.  What gives this cookbook its legs are the unexpected variations on this timeless comfort food."

Knoxville News Sentinel
"The majority of Brown's recipes are adapted from versions served at high-end restaurants, which means few of the dishes include processed cheese foods such as Velveeta or American cheeses. Instead, what you will find are recipes featuring the yumminess of mozzarella, provolone, Muenster, fontina, Gruyere and mascarpone, just to name a few.

If you're a macaroni and cheese connoisseur you will be well served throughout the upcoming winter months with this 192-page softbound book. "
Advertisement