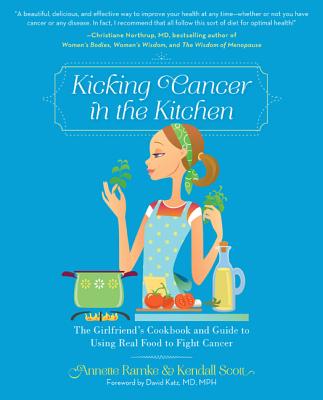 Kicking Cancer in the Kitchen (Paperback)
The Girlfriend's Cookbook and Guide to Using Real Food to Fight Cancer
Running Press Adult, 9780762446773, 352pp.
Publication Date: October 2, 2012
* Individual store prices may vary.
Description
Kicking Cancer in the Kitchen is the bible for the woman who has been handed the cancer card—and for the one who never wants to get it. Authors Annette Ramke and Kendall Scott know exactly what it's like to deal with "the Big C." Here they share girlfriend-style, real-life knowledge and experience about the healing power of food, along with their stories of cancer ups and downs—with more than 100 recipes for fighting cancer and soothing symptoms of treatment. Whether someone is in the thick of "Cancer World" and wants to know what to expect, or for anyone who wants to do all they can to boost their health, Kicking Cancer in the Kitchen offers guidance on not only surviving, but thriving—before, during, and after cancer.

About the Author
Annette Ramke was 36 when she was first diagnosed with cancer, and while in treatment, became immersed in studying nutrition as a way to fight cancer. She felt better than she ever had, including before getting cancer, and decided to pursue further studies at the Institute for Integrative Nutrition in New York City, which is where she met Kendall.

Kendall Scott was diagnosed with cancer at age 27. She then went from a meat & potatoes/ take-out pizza diet to leafy green veggies and whole grains in baby steps, and felt the improvement even while undergoing chemotherapy. After going into remission, she attended the Institute for Integrative Nutrition (IIN) in New York City. She is board certified in holistic health coaching through IIN and the American Association of Drugless Practitioners. Kendall teaches nutrition and cooking classes, leads webinars, presents at wellness events and writes online articles as a nutrition expert. She lives in Maine.


Praise For Kicking Cancer in the Kitchen: The Girlfriend's Cookbook and Guide to Using Real Food to Fight Cancer…
Joshua Rosenthal, MScED, Institute for Integrative Nutrition Founder and Director
"Kicking Cancer in the Kitchen encourages people to get in their kitchens and experience the healing power of good nutrition. I applaud Kendall and Annette for turning their diagnosis into an opportunity to teach others how to eat and live well."

Mark Hyman, MD, author of the #1 New York Times Bestseller, The Blood Sugar Solution
"Cancer doesn't just happen – it grows in a favorable environment of bad food and environmental toxins combined with a few genetic predispositions. The good news is that food is a powerful weapon against cancer both to reverse it and prevent it from coming back again.
Kicking Cancer in the Kitchen is an essential guide to using food as medicine and creating an inhospitable environment for cancer, while delighting your palette and invigorating your senses. Getting well has never been more fun or tasty!"

Taste for Life magazine
"This book is a powerful resource to help you make healthful dietary decisions and increase awareness of your body's needs at any point in life."

ALIVE magazine
Beth Baughman DuPree MD, FACS, breast cancer surgeon and author of The Healing Consciousness: A Doctor's Journey to Healing
"As cancer survivors themselves, Annette and Kendall will educate you about your dietary choices, empower to make step-by-step changes to eat a healthier diet, and entertain you with their wit and charm."  

Sue Friedman, DVM, Founder and Executive Director of FORCE: Facing Our Risk of Cancer Empowered
"Whether you are a cancer survivor, previvor or someone looking to instill healthy eating habits into your daily life, Kicking Cancer in the Kitchen provides simple, delicious recipes and empowering information that can make a difference in your health and quality of life. The authors bring both their professional and personal experiences to the table. The result is a fun and informative book. "   

Dr. Steven G. Eisenberg, Co-founder of California Cancer Associates for Research and Excellence and author of Dancing With The Doctor (2013)
"Kicking Cancer in the Kitchen offers, in one engaging and comprehensive package, what others don't – first-hand experience, nutritional know-how, girlfriend-style support and tasty recipes - all designed to help kick cancer or keep you healthy. A healthy diet is an integral part of healing and fighting disease, and Annette and Kendall join you, step-by-step, and empower you to discover how easy and delicious eating well can be – starting with your very next meal!"