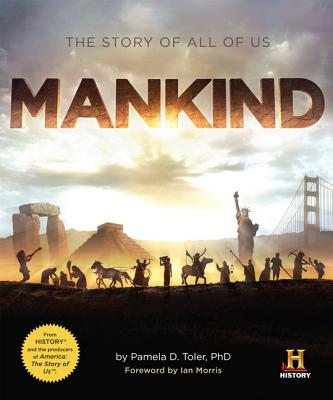 Mankind (Paperback)
The Story of All Of Us
Running Press Adult, 9780762447039, 448pp.
Publication Date: October 30, 2012
* Individual store prices may vary.
Description
It takes more than 10 billion years to create just the right conditions on one planet for life to begin. It takes another three billion years of evolving life forms until it finally happens, a primate super species emerges: mankind.
In conjunction with History Channel's hit television series by the same name, Mankind is a sweeping history of humans from the birth of the Earth and hunting antelope in Africa's Rift Valley to the present day with the completion of the Genome project and the birth of the seven billionth human. Like a Hollywood action movie, Mankind is a fast-moving, adventurous history of key events from each major historical epoch that directly affect us today such as the invention of iron, the beginning of Buddhism, the crucifixion of Jesus, the fall of Rome, the invention of the printing press, the Industrial Revolution, and the invention of the computer.
With more than 300 color photographs and maps, Mankind is not only a visual overview of the broad story of civilization, but it also includes illustrated pop-out sidebars explaining distinctions between science and history, such as why there is 700 times more iron than bronze buried in the earth, why pepper is the only food we can taste with our skin, and how a wobble in the earth's axis helped bring down the Egyptian Empire. This is the most exciting and entertaining history of mankind ever produced.

About the Author
Pamela D. Toler, Ph.D., a member of the World History Association and the American Society of Journalists and Authors, is regularly published in national journals specializing in history and culture, including American History, Calliope, History, the Quarterly Journal of Military History, and SaudiAramco World. She is a contributor and author of several books including The Everything Guide to Understanding Socialism (Adams,2011), She is particularly interested in the times and places where two cultures meet and change each other. History, the award-winning A & E channel that connects history with viewers in an informative, immersive, and entertaining manner across many platforms, has earned four Peabody Awards, 11 Primetime Emmy Awards, and 12 News & Documentary Emmy Awards. It received the prestigious Governors Award from the Academy of Television Arts & Sciences for the network's Save Our History campaign, dedicated to historic preservation and history education.


or
Not Currently Available for Direct Purchase