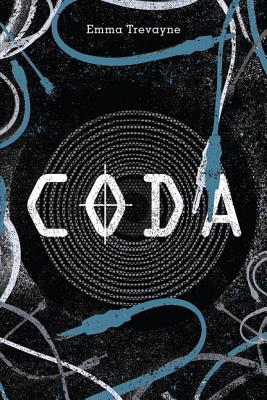 Coda
Paperback

* Individual store prices may vary.
Description
Ever since he was a young boy, music has coursed through the veins of eighteen-year-old Anthem—the Corp has certainly seen to that. By encoding music with addictive and mind-altering elements, the Corp holds control over all citizens, particularly conduits like Anthem, whose life energy feeds the main power in the Grid.
Anthem finds hope and comfort in the twin siblings he cares for, even as he watches the life drain slowly and painfully from his father. Escape is found in his underground rock band, where music sounds free, clear, and unencoded deep in an abandoned basement. But when a band member dies suspiciously from a tracking overdose, Anthem knows that his time has suddenly become limited. Revolution all but sings in the air, and Anthem cannot help but answer the call with the chords of choice and free will. But will the girl he loves help or hinder him?
Emma Trevayne's dystopian debut novel is a little punk, a little rock, and plenty page-turning.
Praise For Coda…
San Francisco Book Review/Sacramento Book Review
"With so many dystopian books out there, it's definitely hard to find one that's both original and well-written. Coda, however, is one of those books…This is a must-read for any YA or dystopia fan [that] stands out in its originality, emotion and real characters."

ForeWord Reviews
"The action is engaging and fast-paced, propelled forward by the authentic and sometimes conflicting interests of its likable cast of characters. . . . The ending is tense and sensational, and readers won't feel let down by the action."

The Midnight Garden
"Coda has a cool-factor unlike anything I've read. A cyberpunk—part dystopian, part science fiction—thriller set in futuristic Manhattan, with the requisite gadgetry, romance, and the added benefit of a rockstar? Sign me up."

A.B. Keuser
"I honestly wasn't expecting what I got. And that was something truly magical."

TheBookHookup
"[T]he rhythm steadily climbs and you only fall more under its spell. By the time the song is nearing its end, there's only the tempo's speed and your heart is racing to match the pace of the song because you're wholly invested now. And when it all ends, when the last crash of the drum sounds and the singer drops the microphone, your heart is gargling in throat from all the rioting and fist-pumping you've done and you can't wipe the smile off your face because it was a damn good ride."

MeOnBooks
"This book is ripe with danger and suspicion, and it highlights the key points of a dystopian setting. The horrors of an oppressive corporation and their corrupt goals, the dreary and dismal setting, the unflinching desire to keep those you care about most safe from harm, the overwhelming search for identity in a world where everyone is forced to be the same, and the discovery of limits, of how far we will go to stay alive."

Jessabella Reads
"A breathtaking debut from a YA author to keep your eye on!"

JBronderBookReviews
"This is definitely one book that young adult book lovers will want to read."

Once Upon a Bookcase
"One of the most amazing dystopian novels I have ever read…Simply incredible…and a completely wonderful debut!"

Running Press Kids, 9780762447282, 320pp.
Publication Date: May 7, 2013
About the Author
Emma Trevayne is a full-time writer. She is an avid music collector, a lover of computer code languages, and a photographer. She has lived in Canada, England, and America. Follow her on Twitter @EMentior.

or
Not Currently Available for Direct Purchase