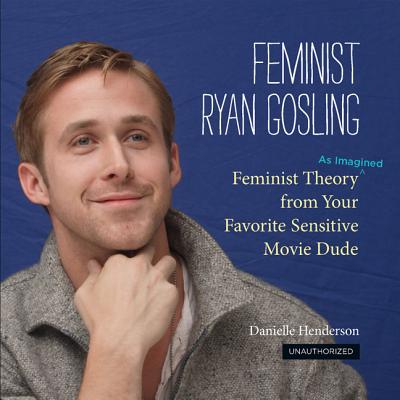 Feminist Ryan Gosling (Hardcover)
Feminist Theory (as Imagined) from Your Favorite Sensitive Movie Dude
Running Press Adult, 9780762447367, 125pp.
Publication Date: August 14, 2012
* Individual store prices may vary.
Description
What started as a silly way for blogger Danielle Henderson and her classmates to keep track of the feminist theorists they were studying in class quickly turned into an overnight sensation. Since its launch in October 2011, the Feminist Ryan Gosling blog has close to 30,000 followers and more than 3 million page views per month.

In this hilarious book based on the wildly popular blog, the author pairs swoon-worthy photos of the steamy actor with sensitive feminist theories and plenty of sweet talk. Included are 120 full-color photos and captions throughout, with some of the best entries from the blog along with 70 to 80 percent brand-new material for the book.
About the Author
Danielle Henderson is the genius behind FeministRyanGosling.tumblr.com and the author of Tales from Fish Camp. As a graduate student and instructor at the University of Wisconsin, her work has been published in several magazines and the anthology Cringe: Teenage Diaries, Journals, Notes, Letters, Poems, and Abandoned Rock Operas. Danielle lives in Madison, Wisconsin.
Praise For Feminist Ryan Gosling: Feminist Theory (as Imagined) from Your Favorite Sensitive Movie Dude…
"Ryan Gosling images and feminism quotes collide in this funny, clever blog that nods to women's rights using the actor's infamous 'Hey Girl' meme."
The Huffington Post

"A huge fan of Ryan Gosling myself, Henderson's playful tumblr makes my heart swoon even more for this past Mickey Mouse Club member whether or not he truly is feminist. But hey, a girl can dream right?"
Feministing

"Feminist Ryan Gosling is a brand new Tumblr that imagines the comely actor as a sensitive, empathetic feminist who'll still call you his girl, but also knows his Judith Butler from his Chandra Mohanty. Plus, it's really funny."
Time

"The Feminist Ryan Gosling meme puts a clever spin on celebrity worship, with fans of the Canadian actor pairing images of his dreamy face with text in which he sweet talks ladies with references to feminist theory."
Rolling Stone

"I wouldn't question too closely whether or not the words under Ryan Gosling's pictures are real quotes or not. Let's just say they are. He's so sensitive and understanding. *Collective Sigh.*"
The Daily Beast

"I didn't think anything could be better than the 'F**k yeah, Ryan Gosling'/'Hey Girl' meme about my boo, but then Feminist Ryan Gosling came along and appealed to my Betty Friedan-loving, bell hooks-reading side."
The Frisky