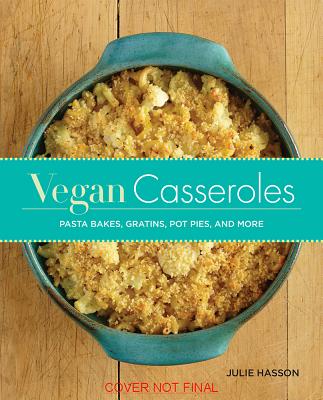 Vegan Casseroles (Paperback)
Pasta Bakes, Gratins, Pot Pies, and More
Running Press Adult, 9780762448845, 200pp.
Publication Date: October 7, 2014
* Individual store prices may vary.
Description
When it comes to traditional comfort food, most of the key ingredients are off-limits to health-conscious vegans. But giving up shepherd's pie, eggplant parm, and cheesy rice casserole was not an option for Julie Hasson, who took on the challenge to recreate flavors she loved, but without the cheese, eggs, butter, and cholesterol. The results are a mix of retro flavors, such as Nacho Cheesy Sauce and a lighter Cream of Mushroom Soup, and fresh, veggie-forward dishes like Mediterranean Stuffed Cabbage Rolls and Summer Corn Custard. The recipes come together quickly, focus on healthier substitutions without the tans-fats, and are endorsed by some of the toughest critics, Julie's college-aged children and their visiting friends! With recipes like Zucchini Basil Lasagna and Tamale Pie, you're guaranteed to find a casserole you'll love. You can even make your own casserole creations by pairing any of the super-simple sauces with your favorite veggies and rice or pasta. Of course, desserts are an important cap to any casserole-based meal: satisfy your sweet tooth with dishes like Rustic Bread Pudding. Now: dig in and feel good about it!

About the Author
Julie Hasson is the author of 8 cookbooks, including Vegan Diner and Vegan Pizza. Julie opened the original Babycakes Bakery (a wholesale bakery that supplied Los Angeles restaurants and coffeehouses with artisan baked goods) and has has contributed articles and recipes to Bon Appetit, Cooking Light, Vegetarian Times, and Family Fun magazines; and is also the host of the Internet cooking show Everyday Dish. Julie has been featured in print, and on TV and radio, including the Cooking Channel, Good Food America, Better Portland,Good Day Oregon, Martha Stewart Living Radio, VegNews Magazine, and Vegetarian Times, as well as numerous radio and TV shows across the country. Julie is currently the Healthy Living Expert on Good Day Oregon, and was one of the hosts of the TV cooking show 15 & Done.

Julie and her husband, Jay, just launched a line of gluten-free vegan baking mixes called Julie's Original, and they live in Portland.
Praise For Vegan Casseroles: Pasta Bakes, Gratins, Pot Pies, and More…
"When it comes to taste, the author succeeds with flavorful recipes ... includes tempting photos, variations, gluten-free adaptations, ingredients information, and buying resources. VERDICT: This work will appeal to those looking to expand beyond the few token casserole recipes found in most general vegan cookbooks."
-Library Journal

"Vegan Casseroles ably reinvents cozy, cherished classics, providing indulgent flavors without sacrificing health. DISCOVER: Healthy, compassionate comfort food without the guilt."
–Shelf Awareness for Readers


or
Not Currently Available for Direct Purchase