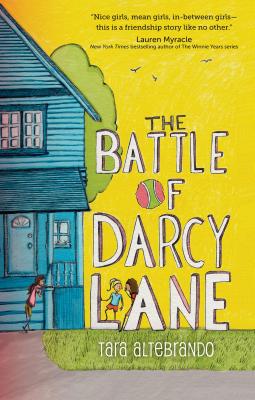 The Battle of Darcy Lane (Hardcover)
Running Press Kids, 9780762449484, 208pp.
Publication Date: April 22, 2014
* Individual store prices may vary.
Description
It is summertime, and twelve-year-old Julia Richards cannot stand the anticipation. Everyone on Darcy Lane seems to be holding their breath waiting for the cicadas to emerge, but what Julia and her best friend, Taylor, want is some real excitement. Which arrives in the form of a new neighbor named Alyssa, who introduces a ball game called Russia . . . and an unwelcome level of BFF rivalry. Suddenly nothing stands unchallenged-not Julia's friendships, her crush, or her independence. But while Julia realizes that she cannot control all the changes in her life, she hangs onto the hope that everything will go in her favor if she can just win one magnificent showdown. Acclaimed author Tara Altebrando's middle-grade debut features a voice that is true to the adolescent experience, where everything is felt acutely in a whirlwind of all-or-nothing emotion.


About the Author
Tara Altebrando is the author of several novels, including The Best Night of Your (Pathetic) Life and Dreamland Social Club. She is also the co-author of Roomies with Sara Zarr. Tara is a Harvard grad living in Astoria, New York, with her husband and two daughters, and you can visit her online at taraaltebrando.com and via Twitter @TaraAltebrando. The Battle of Darcy Lane is Tara Altebrando's middle-grade debut.

Praise For The Battle of Darcy Lane…
"Altebrando brings rich, realistic depth to all of her characters... It's a smart, sensitive portrait of an age when change is in the air, for better or worse."
—Publishers Weekly

"Altebrando's clear, intelligent writing captures the sweet details that comprise Julia's everyday life… charming and authentic".
—School Library Journal

"This quietly empowering story... is a refreshingly honest take on bullying. Julia is a flawed but earnest girl, and she learns how deal with mean girls at her own pace and with cheer-worthy dignity. Readers searching for something similar to Beverly Cleary or Judy Blume should look no further."
—Booklist

"This book would be a safe read for girls on the verge of adolescence or struggling with friendships, and would be a good addition to an elementary library or for young middle school readers."
—VOYA

"Sweet humor, deftly written characters, and a realistic plot make this a great story that is perfect for an upper grade read-aloud."
—Children's Literature