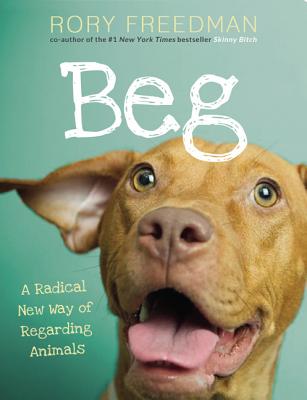 Beg (Hardcover)
A Radical New Way of Regarding Animals
Running Press Adult, 9780762449545, 208pp.
Publication Date: April 30, 2013
Other Editions of This Title:
MP3 CD (8/16/2016)
* Individual store prices may vary.
Description
Rory Freedman, co-author of the #1 New York Times mega-seller Skinny Bitch, returns with a call-to-arms to all animal lovers.
So many of us call ourselves animal lovers and worship our dogs and cats—but we could be using that love as a force for helping all animals. Beg is a battle cry on their behalf, as well as an inspirational, empowering guide to what we can do to help them. With the same no-nonsense tone that made Skinny Bitch a multi-million copy success, Beg galvanizes us to change our choices and actions, and to love animals in a radical new way.
About the Author
RORY FREEDMAN is also the co-author of the #1 New York Times bestselling Skinny Bitch and other books in the Skinny Bitch series—Skinny Bitch in the Kitch, Skinny Bitch: Bun in the Oven, Skinny Bastard, and Skinny Bitchin'—all published by Running Press, an imprint of the Perseus Books Group. An outspoken advocate for animals, she lives in Los Angeles with her three beloved dogs, Timber, Joey, and Lucy.  Please visit her at RoryFreedman.com
Praise For Beg: A Radical New Way of Regarding Animals…
Victoria Moran, bestselling author of Main Street Vegan and Creating a Charmed Life
"Rory Freedman speaks Dog—and Cat and Cow and Guinea Pig. In
Beg
, she translates the barks, the moos, and the looks in those innocent eyes so we get the message: These beings matter more than we ever dreamed, first to their autonomous selves, but also to our very humanity. And she does this in writing so crisp, honest, and engaging that you won't put this book down—at least not until it's time to walk the dog."
Alexandra Paul, actress
"
Beg
 has all the wit and no-pulled punches style of
Skinny Bitch
, and Rory Freedman's intensely personal revelations will tug at your heart at the same time that you are chuckling at her candor.  It is at once a memoir, a how-to manual, a self-help book, an animal rights treatise and an intimate letter from your best friend.   After reading this wonderful book, not only have I changed the way I treat my cat, I have also changed the way I look at the world.  I BEG you to buy this book—you'll be glad you did."
Lisa Bloom, New York Times bestselling author of Think and Swagger
"Ready to make love an action verb? 
Beg
is your essential handbook."

Simone Reyes, cast member of Running Russell Simmons and animal rights activist
"Rory Freedman heard the call of billions of suffering animals and was brave enough to answer it in print, in the media and in your face. She is an integral part of our fight for total animal liberation and has provided us with the gift of this new book which is sure to recruit more warriors of compassion to our cause."  

Kathy Freston, NY Times bestselling author of The Lean, Veganist, and Quantum Wellness
If there were a rock star advocate for animals, Rory Freedman would be it…I love that Skinny Bitch!
John Joseph , Cro-Mags
"I can honestly say that Rory has done more than any other person I know to promote the cause of compassion for animals.  Her energy and determination is unending and unapologetic, and it needs to be.  Beg is a vital piece of literature for this growing movement in that it makes us take a look at the industries profiting off of the cruel mistreatment of animals and end it so we can live harmoniously on Planet Earth with all beings.  Bravo my Sister!  
Dr. Jenn Berman, host of VH1 Couples Therapy
"
Beg
is an important book to read for anyone who cares about animals. Rory manages to educate, inspire and entertain all at once. I BEG you to read it."

Russell Simmons
"Thanks to Rory Freedman people who love animals but don't know how to help them now have an all-inclusive guide to being their savior "
John Robbins, bestselling author of Diet For a New America, The Food Revolution, and Co-founder of The Food Revolution Network
"If you love your dog or cat, if you love animals, this book is a must. You will be talking about it for years, because it will change your life and make you a better person."  

Ingrid Newkirk, cofounder and president PETA (People for the Ethical Treatment of Animals)
"Funny and Frank.  Ms. Freedman doesn't pussyfoot: she lays it on the line with her unembarrassed love for the dogs in her own life and a perfect plan as to how every dogophile can shake a leg to help dogs and other living beings who aren't as lucky."

Sharon Gannon, cofounder of Jivamukti Yoga
"Beg begs to be listened to. Rory's voice is informed, passionate, smart, humorous, non-judgmental, but perhaps most importantly her voice is our own collective voice—longing to be kind in an unkind world. This book will show you how to be an irresistibly happy person whose own life has the power to uplift the whole world."

Nathan Runkle, executive director Mercy for Animals
"Rory Freedman's Beg is a call to arms for anyone who considers themselves an animal lover. In this seamless follow-up to her Skinny Bitch series, Freedman highlights a world that is rarely seen. Your eyes will be opened, but more importantly, so will your heart."

Emily Deschanel, actress and activist
"Funny and heartwarming, but also revealing, Beg is a must-read for every animal lover. You'll laugh, you'll learn, and you'll be a better animal lover."

Tatiana von Furstenburg, filmmaker
"I read it in a couple of hours and am extremely motivated to increase my mindfulness and action towards my respect for life and my love of animals. The book is filled with research, information and finely-combed facts. So much detail, and yet, delivered in an easy, conversational style that has levity and transmits the enthusiasm of the author. The message is contagious—an amazing example of advocacy.  I look forward to being able to buy the book and spread the message by giving copies to friends."

Ben Lee, award winning singer/songwriter, actor