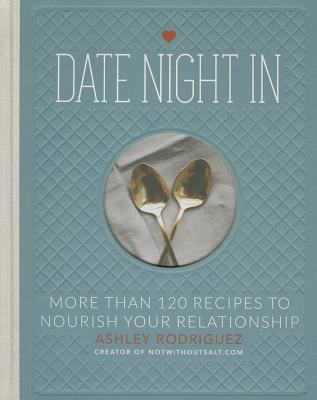 Date Night in: More Than 120 Recipes to Nourish Your Relationship (Hardcover)
More Than 120 Recipes to Nourish Your Relationship
Running Press Book Publishers, 9780762452460, 288pp.
Publication Date: December 30, 2014
Description
Rekindle the romance at home with a weekly date night, one on one, over an absolutely delicious meal for two.

Sweethearts, spouses, and parents Ashley and Gabe Rodriguez found themselves deep into marriage and child-rearing when they realized they were missing the connection of their early relationship, and needed to prioritize each other. They instituted a weekly date night at home to saute, roast, mix, dice, and spend time reconnecting over delicious meals like:
Crostini with Ricotta, Prosciutto, and Peas
Tomato and Fennel Gazpacho with Dungeness Crab
Fennel-Crusted Lamb Chops
Dulce de Leche and Nectarine Creamsicles
Simply carving out time to talk, cook, and eat together can be the relationship-booster you need to keep the spark alive. Just don't forget the cocktail (try a Rhubarb Sour or a Grapefruit 75). Make date night an integral part of your week and woo your partner all over again with food, drink, and sparkling conversation. Packed with tantalizing and delicious recipes,
Date Night In
is a must-have cookbook for any couple who wants to spice things up with special seasonal meals at home around a table for two.
About the Author
Ashley Rodriguez is a Seattle-based food consultant, cooking instructor, food photographer, writer, wife, and mother of three young children. As the creator of notwithoutsalt.com Ashley blogs about life as told through food. Her blog has earned accolades from Saveur.com (Best Food Blog 2013), the Times Online, Babble.com, RealSimple.com, Brides.com, BonAppetit.com, Glamour.com, GourmetLive.com, Food52.com, MarthaStewart.com, and TheKitchn.com for her writing and original photography. Ashley's work has also been featured in several publications such as Martha Stewart Living, Glamour, Sunset, and Edible Seattle. Before she began the blog, Ashley worked in several professional kitchens including Wolfgang Puck's Spago in Beverly Hills. Now, Ashley teaches in and around Seattle at various locations including The Pantry and The Book Larder.
Advertisement