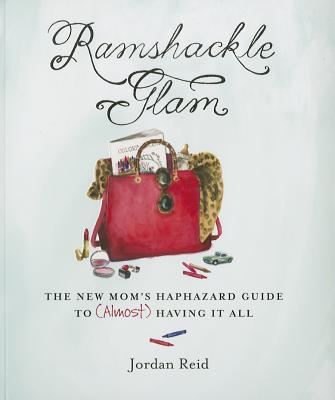 Ramshackle Glam (Paperback)
The New Mom's Haphazard Guide to (Almost) Having It All
Running Press Adult, 9780762453047, 192pp.
Publication Date: April 8, 2014
* Individual store prices may vary.
Description
Ramshackle Glam creator Jordan Reid was a little nervous about becoming a mother. "In my experience," she writes, "you know what happens when you hold babies? They cry. And it immediately becomes clear to all present that you have terrible parental instincts and should never be allowed to come into contact with children—ever."
But in October 2011 Reid became a mother herself, and over the first year of her son's life the writer and media personality not only figured out a thing or two about parenting, but also learned how to navigate an entirely new lifestyle while still maintaining a sense of self.
Part memoir, part commiseration, and part how-to guide on fashion, beauty, home décor and entertaining for the new mom, Ramshackle Glam offers something fresh for the "mommy" bookshelf: concrete advice on how to care for yourself in the post-partum days, weeks, and months. A deeply personal exploration of the realities of modern-day parenthood (Reid covers topics ranging from post-partum depression and marital struggles to pets who immediately transform from your beloved best friends into Those Things That Wake Up Your Child), Ramshackle Glamis also filled with straightforward, fun, and easy lifestyle tips, including how to dress for your post-partum shape, tricks for rearranging your home so it works with an infant as well as your tastes, and strategies for getting your makeup done in five minutes flat with one hand while keeping that bouncy chair going with the other.
Reid's spot-on advice combined with her trademark intimacy, wit, and (often aching) honesty make Ramshackle Glam a must-read for any woman in search of a candid account of how to handle enormous life changes with humor, grace . . . and a little bit of glam.
About the Author
Jordan Reid grew up in New York City, studied cognitive neuroscience at Harvard University, and worked as an actress for over a decade before turning her focus to fashion, beauty, entertaining, home décor, and DIY, creating her lifestyle website Ramshackle Glam.
Reid has been called "a star of the post-expertise how-to landscape" by the New York Observer, and Ramshackle Glam (ramshackleglam.com) has been deemed a "survival guide for those who don't have a clue how to be domestic" by the Daily Beast. The blog has been featured in Time, Cosmopolitan, Women's Wear Daily, New York Magazine, Glamour, and many other publications. Reid is a consultant for numerous national brands and a lifestyle expert for online, print, and on-air media outlets, in addition to hosting her own online series, Jordan in the House.She currently lives in New York's Hudson Valley with her husband, their son, and two of Those Things That Wake Up Your Child.
or
Not Currently Available for Direct Purchase