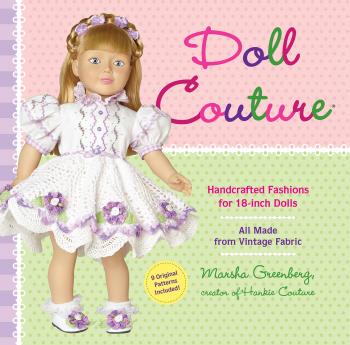 Doll Couture (Paperback)
Handcrafted Fashions for 18-inch Dolls
Running Press Adult, 9780762453726, 164pp.
Publication Date: September 9, 2014
* Individual store prices may vary.
Description
Hankie Couture creator Marsha Greenberg shares her extraordinary gift for transforming vintage fabric into one-of-a-kind doll fashions. Now you can make them too! Doll Couture is an exquisite collection of fashions for 18-inch dolls—everything from dresses to pants, jumpers, blouses, and shoes—meticulously crafted from vintage handkerchiefs, table cloths, tea towels, laces, linens, pillowcases, table runners, and much more.
Doll Couture showcases more than 100 of Marsha's unique fashions and accessories. It's more than a beautiful photo album though; the book includes 10 original patterns and sewing instructions so you can get started turning fabrics you already own into new and beautiful creations. Presented in stylish, sophisticated photographs modeled by a doll of Marsha's own design, and accented by sensibility quotes that highlight the designer's philosophy and aesthetics, Doll Couture sets the stage for a fabulous world of doll fashion. It's time to get started transforming your own treasured heirlooms or colorful flea-market finds into unique fashion ensembles!
About the Author
Marsha Greenberg began sewing her own fashions at the age of eleven. Her love of fabrics, colors, and patterns continued throughout the years, and in 1978 she founded a women's sportswear company called Marsha, Inc. In the summer of 2002, after discovering a treasure trove of vintage handkerchiefs in a Pennsylvania antiques shop, Marsha made her first "Hankie Couture" dress—and hasn't stopped since. Marsha and her husband live in Encino, California.