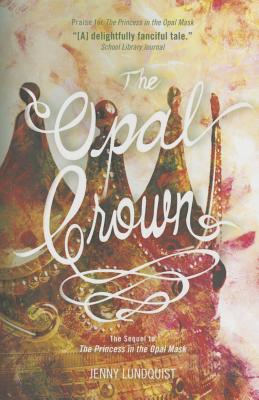 The Opal Crown (Paperback)
Running Press Kids, 9780762454228, 368pp.
Publication Date: October 28, 2014
* Individual store prices may vary.
Description
Only One Princess Can Wear the Crown . . .

A year after her betrothal to the Kyrenican prince, no one has suspected that Princess Wilha has been a decoy—and that Elara, her secret twin sister, has been pretending to be Wilha all along. Back in Galandria, their kingdom is deteriorating, and returning home could bring peace—or add fuel to the slow-burning fire.

When their father, the king, mysteriously dies and Elara and Wilha's younger brother, Andrei, claims the Galandrian throne, he reveals the girls' deception. Viewed as traitors, they realize they are now fighting for their lives—and for their country.

In Jenny Lundquist's concluding sequel to The Princess in the Opal Mask, Elara and Wilha must decide who will become queen. Or rather, who will become the next savior for their people.

About the Author
Jenny Lundquist was born and raised in Huntington Beach, CA. She earned a Bachelor of Arts degree in Intercultural Studies with a minor in TESOL at Biola University. Lundquist is the author of The Princess in Opal Mask and two middle-grade novels, Seeing Cinderella and Plastic Polly. She lives in Rancho Cordova, California, with her husband and two sons. Visit her online at jennylundquist.com and Twitter @Jenny_Lundquist.
Praise For The Opal Crown…
"[F]ull of surprising plot twists . . . Fans of Jennifer A. Nielsen's 'Ascendance Trilogy' (Scholastic) should enjoy this."—School Library Journal.

"[S]uited for fans of romance . . . this concluding story will also satisfy those looking for 'clean' reads."
–Kirkus Reviews

"Fans of the first title will appreciate the satisfyingly logical plot flow, compelling characters, and strong feminist roots."
—Booklist

"[Lundquist's] characters are distinct and accessible.... Fans of fantasy romances will enjoy getting to know Wilha and Elara in an action-packed foray into this world."
—VOYA