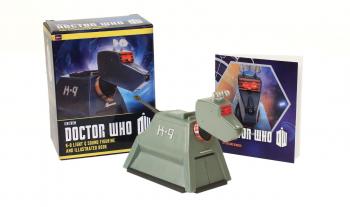 Doctor Who (Paperback)
K-9 Light-and-Sound Figurine and Illustrated Book (Miniature Editions)
Running Press Miniature Editions, 9780762454785, 48pp.
Publication Date: September 30, 2014
* Individual store prices may vary.
Description
Kit includes a miniature figurine of K-9, the Doctor's trusty robotic canine, complete with audio of his catchphrase, "Affirmative, Master!" and light-up eyes. Also included is a 48-page book on Doctor Who and K-9, featuring full-color photos.
About the Author
Doctor Who, the BBC's landmark science fiction television show, launched in 1963. Since then the series has become a global phenomenon among millions of fans. New doctors have kept the show going. The transition from one actor to another is written into the plot of the show as a "regeneration" whereby the Doctor takes on a new body but all along representing the same character.