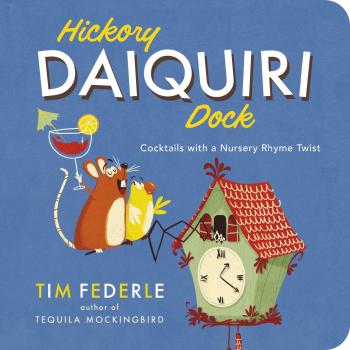 Hickory Daiquiri Dock: Cocktails with a Nursery Rhyme Twist (Board Books)
Cocktails with a Nursery Rhyme Twist
Running Press Book Publishers, 9780762455058, 40pp.
Publication Date: December 1, 2014
Description
Move over, Mother Goose.

Congratulations, and welcome to parenthood Babies are a miracle, but even miracles poop. A lot. Thank goodness she's got your twinkling eyes, he's got your perfect nose, and we've got your aching back. Welcome to Hickory Daiquiri Dock: Cocktails with a Nursery Rhyme Twist--the ultimate gift for new parents everywhere.

Featuring 20 classic nursery rhymes with a decidedly grown-up twist, it's time to lose the rattle, pick up a shaker, and throw yourself an extremely quiet party. Especially if you've finally gotten the baby to sleep, which is always worth toasting to.

Drinks include:
--Eeny, Martini, Miny, Mo
--Jack and Coke (and Jill)
--Ring Around the Rose
--Old MacDonald Had a Flask
--Baa, Baa, Black Russian
--and more

About the Author
Tim Federle is the author of Tequila Mockingbird: Cocktails with a Literary Twist, which was named the 2013 Goodreads Cookbook of the Year and called "a joy" by the London Evening Standard. Though Tim is not a parent himself (that he knows of), he is a very cool uncle. Tim lives and drinks in New York City. Say hi at TimFederle.com and on Twitter at @TimFederle.
Advertisement