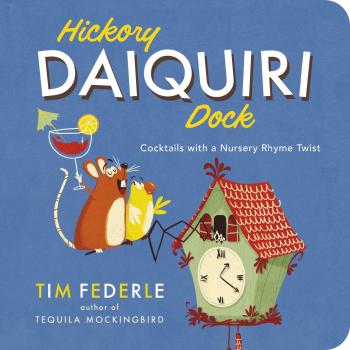 Hickory Daiquiri Dock
Cocktails with a Nursery Rhyme Twist
Board book

* Individual store prices may vary.
Description
Move over, Mother Goose.

Congratulations, and welcome to parenthood! Babies are a miracle, but even miracles poop. A lot. Thank goodness she's got your twinkling eyes, he's got your perfect nose, and we've got your aching back. Welcome to Hickory Daiquiri Dock: Cocktails with a Nursery Rhyme Twist -- the ultimate gift for new parents everywhere.

Featuring 20 classic nursery rhymes with a decidedly grown-up twist, it's time to lose the rattle, pick up a shaker, and throw yourself an extremely quiet party. Especially if you've finally gotten the baby to sleep, which is always worth toasting to.

Drinks include:
-- Eeny, Martini, Miny, Mo
-- Jack and Coke (and Jill)
-- Ring Around the RoséR> -- Old MacDonald Had a Flask
-- Baa, Baa, Black Russian
-- and more!
Praise For Hickory Daiquiri Dock: Cocktails with a Nursery Rhyme Twist…
"More fun at a baby shower than a Diaper Genie."
—Tampa Bay Times

"It's not easy to riff off childhood favorites with such a clean balance of wit and punch, but Federle nails it."
—Food Network Dish

"The exhaustion and the joy of parenthood are palatable. That is what makes this book exceptional. It perfectly captures both ends of the parenting spectrum."
—BookTrib

"Hickory joins a line of recent publications like the viral smash Go the F**k to Sleep and the follow-up You Have to F**king Eat that add an irreverent twist to parenting."
—Atlantic Magazine

"[E]ssential cocktail book to add to your collection."
—L.A. Times Daily Dish

Praise for Tim Federle's Tequila Mockingbird
"It's a little-known fact that the information in here will make anyone look and sound better than they actually do"
—David Baldacci

"…this is a wonderfully entertaining read, slight enough to be digested in one sitting, clever enough to be entertaining even if you never make a single one of the cocktails."
—World of Beer blog

—
-
Running Press Adult, 9780762455058, 40pp.
Publication Date: December 2, 2014
About the Author
Tim Federle is the award-winning author of one of the world's bestselling cocktail recipe books, Tequila Mockingbird, as well as the Hollywood-themed spin-off Gone with the Gin, and the novelty board book Hickory Daiquiri Dock. His most recent book, Life Is Like a Musical, is a guide to life based on his experiences on Broadway. Declared "a prolific scribe whose breezy wit isn't bound to a single genre" by the Huffington Post, Tim also writes screenplays and novels. A native of San Francisco who grew up in Pittsburgh, Tim now divides his time between New York and the internet.