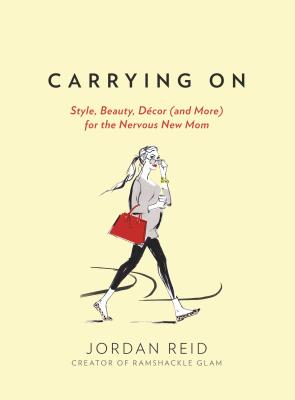 Carrying on: Style, Beauty, Decor (and More) for the Nervous New Mom (Hardcover)
Style, Beauty, Decor (and More) for the Nervous New Mom
Running Press Book Publishers, 9780762456116, 272pp.
Publication Date: December 22, 2015
Description
"When you find out that you're pregnant, you might be nervous. I certainly was,
mostly because I didn't know anything, and I wanted to know it all. Right now."

In Carrying On, lifestyle blogger Jordan Reid weaves real-world fashion, beauty, home decor, and entertaining advice into a candid account of what pregnancy (and new parenthood) is really like. Fearlessly taking on topics that every mom-to-be wrestles with, including judgment from peers (and total strangers), relationship upheavals, intimacy issues, and the greatest worry of all--can you ever truly be "ready" for a change as big as a baby?--Carrying On is a must-read for any woman looking for a humorous (and sometimes heartbreaking) account of what life is like when you're waiting for your new one to start.

About the Author
Jordan Reid studied cognitive neuroscience at Harvard University before turning her focus to fashion, beauty, entertaining, and home decor by creating her lifestyle website, RamshackleGlam. Reid is a consultant for national brands and a lifestyle expert for online, print, and on-air media outlets, in addition to hosting her own online series, Jordan in the House. She lives in Tarrytown, New York.
Advertisement