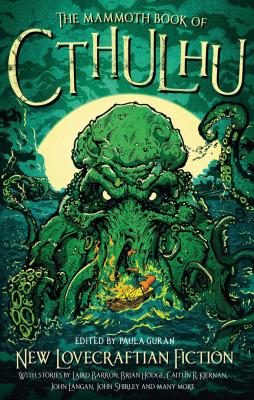 The Mammoth Book of Cthulhu (Mammoth Books)
Paperback

* Individual store prices may vary.
Description
An outstanding anthology of original stories inspired by H. P. Lovecraft from authors who do not merely imitate, but reimagine, re-energize, and renew his concepts in ways relevant to today's readers. Fresh new fiction that explores our modern fears and nightmares. From the depths of R'lyeh to the heights of the Mountains of Madness, some of today's best weird fiction writers -- both established award-winning authors and exciting new voices -- THE MAMMOTH BOOK OF CTHULHU collects tales of cosmic horror that traverse terrain created by Lovecraft and create new eldritch geographies to explore . . .

With stories by: Laird Barron, Nadia Bulkin, Amanda Downum, Ruthanna Emrys, Richard Gavin, Lois H. Gresh, Lisa L. Hannett, Brian Hodge, CaitlíR. Kiernan, John Langan, Yoon Ha Lee, Usman T. Malik, Helen Marshall, Silvia Moreno, Norman Partridge, W. H. Pugmire, Veronica Schanoes, Michael Shea, John Shirley, Simon Strantzas, Sandra McDonald, Damien Angelica Walters, Don Webb, Michael Wehunt, and A.C. Wise
Praise For The Mammoth Book of Cthulhu (Mammoth Books)…
Praise for the Editor's previous book
New Cthulhu: The Recent Weird
:
"For fans of Lovecraftian fiction and well-wrought horror"
-Library Journal

"Guran smartly selects stories that evoke the spirit of Lovecraft's work without mimicking its style."
-Publishers Weekly

"It's a pretty impressive line-up, with nary a clunker to be found. . . . You don't have to be a Lovecraft fan to enjoy this anthology... You'll find alienation, inhumanity, desperation, cruelty, insanity, hopelessness and despair, all set against the backdrop of a vast, unknowable universe filled with vile, indifferent monstrosities. You'll also find beauty, hope, redemption, and the struggle for survival. What more can you ask for?"
-Tor.com

"I highly recommend this collection... If you have even the slightest interest in contemporary horror fiction, you'll want to try this one on for size!"
-BookGuide


Running Press Adult, 9780762456208, 512pp.
Publication Date: May 24, 2016
About the Author
Paula Guran is the senior editor at Prime Books and has edited the Juno line of fantasy for six years.