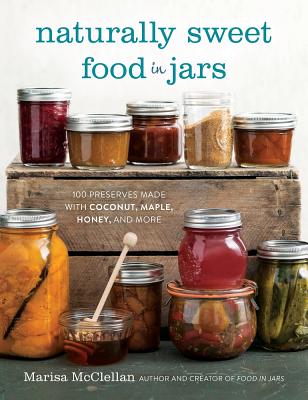 Naturally Sweet Food in Jars (Hardcover)
100 Preserves Made with Coconut, Maple, Honey, and More
Running Press Adult, 9780762457786, 216pp.
Publication Date: March 22, 2016
* Individual store prices may vary.
Description
Make all the Preserves You Love Sweeter than Ever, For Healthier Canning at Home!
After years of addressing questions reducing sugar, substituting sugar, and leaving it out altogether, author Marisa McClellan began to rejigger her recipes, helping her home canners enjoy the flavors of the season without the refined sugars. The result is
Naturally Sweet Food in Jars
, preserving in the tenor of today's health-conscious audience. The inventive spreads, dips, pickles, and whole fruits in McClellan's third preserving book use only unrefined sweeteners:
maple sugar and syrup
coconut sugar
dates
agave
honey
dried fruits and juices
...and less of them! The book is organized by sweeteners, and includes recipes like:
Sriracha-style Hot Sauce (using honey)
Date Pancake Syrup (with maple)
Cantaloupe Basil Jam and Marinated Multicolored Peppers (both sweetened with agave)
Fennel and Parsley Relish (sweetened with fruit juice)

Her trademark flavor combinations, seasonal awareness, and manageable small batches are here, too, for her longtime readers and a whole new audience, and are just as sweet. It's the perfect addition to your collection, and will bring your preserving up to speed with a health-conscious diet.
About the Author
Marisa McClellan is a writer, teacher, and blogger at FoodinJars.com. She has written for Fine Cooking, Parents Magazine, Vegetarian Times, USA Today, FoodNetwork.com, SeriousEats.com, Food52.com, TheKitchn.com, Saveur.com, Edible Philly, and more. She lives in Philadelphia with her husband. Find more of her jams, pickles, and preserves (all cooked up in her 80-square-foot kitchen) at foodinjars.com.