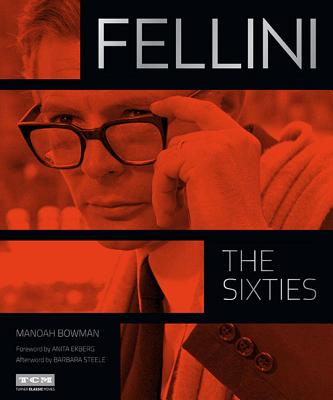 Fellini (Hardcover)
The Sixties (Turner Classic Movies)
Running Press Adult, 9780762458387, 304pp.
Publication Date: October 27, 2015
* Individual store prices may vary.
Description
Style. Beauty. Passion. Vision.
These are just a few of the words often used to describe the films of the single most celebrated director in Italy, and one of the most important directors the world has ever known—Federico Fellini. Fifty years since their initial releases, his films of the 1960s still inspire, shock, and delight. More than just encapsulating the '60s, these films also helped define the style of the decade. With a staggering twelve Academy Award nominations between his four feature films during this period, Fellini reached the heights of fame, film artistry, and worldwide prominence. Studied, analyzed, and re-released over the years, these films continue to amaze each new generation that discovers them. Their impeccable style makes them timeless. Their images make them unforgettable. Their passion brings them to life. And their singular vision makes them unique in all of cinema.
Fellini: The Sixties is a stunning photographic journey through the director's most iconic classics: La Dolce Vita, 8½, Juliet of the Spirits, and Fellini Satyricon. Carefully selected imagery from the Independent Visions photographic archive, many published here for the first time, illuminate these films as they have never been seen before, and reveal fascinating details of the director's working style and ebullient personality. With more than 150 photographs struck from original negatives, these images spring to life from the page with the depth and quality of the films themselves. Complemented with insightful essays from contemporary writers, Fellini: The Sixties is a true testament to the man and his work, a remarkable compendium of the legendary filmmaker's greatest achievements.

About TCM:
Turner Classic Movies is the definitive resource for the greatest movies of all time. It engages, entertains, and enlightens to show how the entire spectrum of classic movies, movie history, and movie-making touches us all and influences how we think and live today.
About the Author
Manoah Bowman is a photography preservationist and editor. His photo archive of more than a million unique images details the history of cinema and Hollywood. He has contributed material to many publications, movie studios, and museums, including Eastman House, the Academy of Motion Picture Arts and Sciences, Paramount, Universal, United Artists, and Disney. His work as a photo editor includes the books Chaplin: Genius of the Cinema and Buster Keaton Remembered. He resides in Los Angeles, CA.

Praise For Fellini: The Sixties (Turner Classic Movies)…
"Italy's most celebrated filmmaker gets a royal salute in Fellini: the Sixties, a lavishly illustrated tribute to director Federico Fellini and his iconic, often shocking movies of that era, including La Dolce Vita, 8½ and Fellini Satyricon."
-Parade.com

"For Federico Fellini aficionados, the lavishly illustrated new book Fellini: The Sixties is the equivalent of a mouthwatering plate of spaghetti and a glass of the best Chianti. It's a fantastic voyage into the magical world of one of cinema's greatest masters…"
-LA Times
or
Not Currently Available for Direct Purchase