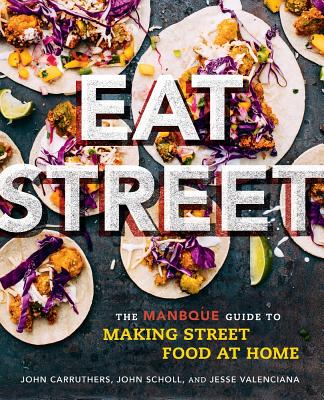 Eat Street (Paperback)
The ManBQue Guide to Making Street Food at Home
Running Press Adult, 9780762458691, 328pp.
Publication Date: April 26, 2016
* Individual store prices may vary.
Description
Thanks to foodies, soft-focus feature spreads, and unbending artisan philosophies, you'd think that cooking has become a rarified skill that only those with a Yelp account and three-hundred dollar knife set can enjoy. It's easy to forget that delicious food is often loud, messy, and fun. When was the last time a Michelin-starred restaurant made you feel like you discovered a secret, amazing part of a city? When was the last time you yelled "this is f*king amazing!" at a tastefully-appointed bistro? But you did pledge your undying devotion to that food truck at 3:00 am, right before the memories get fuzzy. So we dug up that taco recipe, plus a couple hundred others worthy of your foul-mouthed late night praise. And now you can make it yourself at home.

For those who like their food grilled, fired, and charred, Eat Street presents 200 recipes for the most delicious food in the world -- street food. Starting with the setups, you'll discover how to get the most out of everything from flat-top griddles to outdoor brick ovens to earthenware pots, so you make the best food with the right equipment. Then dig into the greatest hand-held grub from around the world: Philly Cheese Steaks, Pork Belly Gyoza Dumplings, Arepas, and more. Each recipe comes paired with a beer, so you put the right bottle or can with whatever you're cooking. Welcome to Eat Street.
About the Author
John Carruthers is a writer, editor, and 2014 graduate of Hot Dog University. Yes, that's a real thing. His thoughts on meat, and the cooking and eating thereof, have appeared in Serious Eats, Thrillist, The Big Lead, and Food City from the University of Illinois Press. He and his wife live in Chicago, because you can get a decent taco there at any hour.

John Scholl is a founding member of ManBQue. When he's not at his day job in advertising, he's cooking or brewing beer. He also travels with his family, searching for great food and beer. He lives in Chicago with his wife, two kids, and dog.

Jesse Valenciana is the founder of ManBQue and lifelong Chicagoan. Aside from contributing his sports related sarcasm to a local newspaper, he gets paid to travel the country for a beer company and has his pig-dog Gus tattooed on his arm. That's called living the dream.