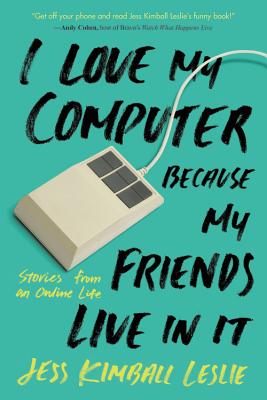 I Love My Computer Because My Friends Live in It
Stories from an Online Life
Paperback

* Individual store prices may vary.
Other Editions of This Title:
Digital Audiobook (4/24/2017)
Description
"Get off your phone and read Jess Kimball Leslie's funny book!"
-- Andy Cohen, host of Bravo's Watch What Happens LiveI

Love My Computer Because My Friends Live in it is a hilarious memoir of growing up in the early days of the Internet and celebrating technology's role in our lives.

Coming of age in suburban Connecticut in the late '80s and early '90s, Jess Kimball Leslie looked to the nascent Internet to find the tribes she couldn't find IRL: fellow Bette Midler fans; women who seemed impossibly sure of their sexuality; interns trudging through similarly soul-crushing media jobs. Through effortlessly comedic storytelling and looks at tech through the ages (with photos!), Jess takes you on a journey through the hilarious times that technology and the Internet changed her life.

From accounts of the lawless chat rooms of early AOL to the perpetual high school reunions that are modern-day Facebook and Instagram, Jess's essays paint a clear picture: That each of us has a much more twisted, meaningful, emotional relationship with the online world than we realize or let on.
Praise For I Love My Computer Because My Friends Live in It: Stories from an Online Life…
"Get off your phone and read Jess Kimball Leslie's funny book!"
—
Andy Cohen, host of Bravo's Watch What Happens Live
"Chatting up randos on AOL, writing feckless corporate tweets, stalking gone-to-seed high-school crushes on Facebook: Jess's life story is as hilarious and weird as the Internet she grew up with. This book is a warm, funny look at how our online and offline worlds became inextricably woven together."
—
Clive Thompson, WIRED columnist and author of Smarter Than You Think
The first personal history of growing up with technology and the internet. The chapter on Twitter is priceless.
—
Steve Eisman, investor who was the inspiration for Mark Baum's character in the film The Big Short
"Jess Kimball Leslie is funny and delightful. Read her book now!"
—
Carol Leifer, writer for Seinfeld, Modern Family, and more; producer; and author of How to Succeed in Business Without Really Crying
"When I heard this tale in person, I was mesmerized. When I read it, I couldn't stop laughing. Life online with Jess is as electric as her computer and her stories."
—
Kathy Najimy, actress and comedian
"In honor of all of us on The Internet, I will only read the title of this book and form an opinion: It's great!"
—
Marc Shaiman, composer and lyricist for films and television
Running Press Adult, 9780762461714, 240pp.
Publication Date: April 25, 2017
About the Author
Jess Kimball Leslie is a rising star in the tech journalism world who writes about technology and the Internet for publications such as Elle, The Hairpin, The Awl, TechCrunch, and others. Jess is an analyst whose work has been commissioned by companies such as American Express, Google, and Samsung; a frequent speaker at large tech conferences; and a regular guest on multiple cable news shows. She lives in Brooklyn with her wife and son.