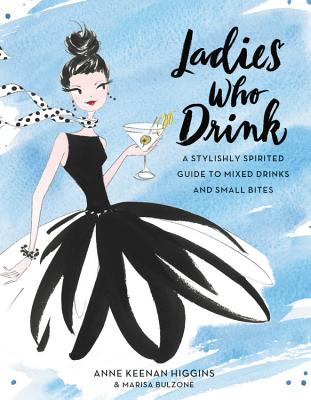 Ladies Who Drink: A Stylishly Spirited Guide to Mixed Drinks and Small Bites (Hardcover)
A Stylishly Spirited Guide to Mixed Drinks and Small Bites
Running Press Book Publishers, 9780762461882, 192pp.
Publication Date: September 19, 2017
Description
A perfect housewarming gift or entertaining guide for any gathering of your gal pals, this is a gloriously glamorous excursion into the world of cocktails. Ladies Who Drink is a one-of-a-kind cocktail book that brings together classic and modern drink recipes, small-bite pairings, entertaining ideas, and to-die-for original fashions presented in a gorgeous array of scenes by illustrator Anne Keenan Higgins. Broken down by occasions like game day, book club, barbeque, or Sunday brunch, as well as moods like April in Paris, seaside sunset, or Mardi Gras, Ladies Who Drink is a dazzling entertaining guide filled with ideas for all your fun-filled occasions.
About the Author
Anne Keenan Higgins began her career as an art director for advertising agencies in Detroit. Starting her own illustration business, Anne developed a signature whimsical style and began licensing her artwork to the greeting card, giftware, and publishing industries. Her first book as both author and illustrator is Fictionally Fabulous. Anne resides near Detroit, Michigan.
Advertisement