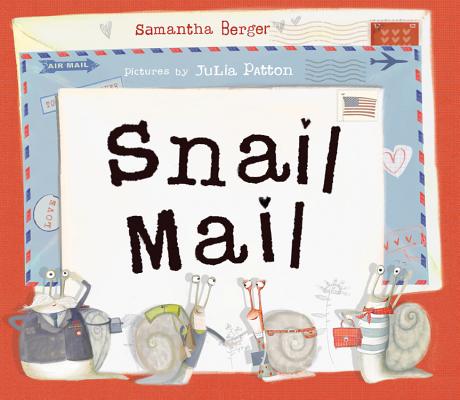 Snail Mail
Hardcover

* Individual store prices may vary.
Description
A long, long time ago, before email and texting, the mail was delivered in a much slower way-it was called Snail Mail (because some thought it was delivered by a snail). Although it took much longer, everyone agreed that letters were a little more special when they were delivered by Snail Mail. They might be handwritten. They might include a drawing. They might even contain a surprise inside! One such letter was sent by a Girl to the Boy she loved, and it was up to four special snails to deliver her card across the country. The snails trek across the country-through desert heat and dangerous blizzards, across mountains and plains, through cities and forests-and along the way, they find that taking time to slow down and look around makes the journey all the more beautiful.

Snail Mail's playful and educational story encourages kids to have slow living, and to approach life with determination and wonder. Julia Patton's rich illustrations showcase America's diverse terrain and national monuments from coast to coast. Kids and parents alike will delight in this celebration of America's beauty and the power of a simple handwritten letter.
Praise For Snail Mail…
"Patton's layered images evoke the pleasures of paper."—The New York Times

"The art shows irresistible snails with eyeballs on stalks protruding above their clothed soft parts, shells exposed to the weather. Engaging watercolors offer varied landscapes and postcardlike views of famous landmarks. The absurdity of the premise-and repeated promise-is humorously upheld throughout."—-Kirkus Reviews, starred review

"This delightfully silly interpretation of snail mail will also appeal to adults wishing for the slower pace and handmade charm of pen and paper correspondence."—School Library Journal

"[An] appropriately leisurely paced tale about the pleasures of taking one's time."—-Shelf Awareness

"[C]hildren will be delighted by the colorful illustrations throughout the storybook-especially the humorous renderings of four tried and true, hard-working snails."—New York Journal of Books

"A charming story of love, determination, adventure and the rewards of three, this fun and comical book is a genuine delight."—Books to Borrow . . . Books to Buy
Running Press Kids, 9780762462513, 32pp.
Publication Date: May 1, 2018
About the Author
Samantha Berger has written picture books including What If..., Crankenstein and A Crankenstein Valentine, Witch Spa, Snoozefest, Santa's Reindeer Games, and Martha Doesn't Say Sorry, which won a Parent's Choice Award Honor. When she isn't writing, she's doing voice-overs, traveling the world, and helping rescue dogs. Samantha splits her time between New York City and California.

Julia Patton is an award-winning author and illustrator with more than twenty-five picture books and educational titles published internationally. She has a BA in Textile Design & Embroidery from Manchester Metropolitan University and an MA in Illustration from The University of Edinburgh. When not illustrating you will find her building tree houses, growing vegetables and hand making sketchbooks to fill with new stories, characters and adventures. She lives in Northumberland, England.