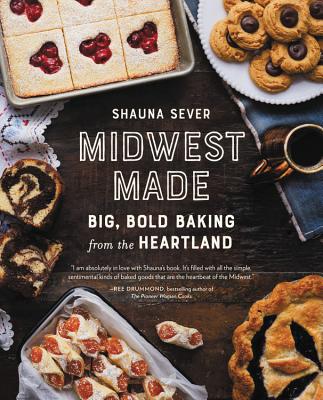 Midwest Made
Big, Bold Baking from the Heartland
Hardcover

* Individual store prices may vary.
Description
A Love Letter to America's Heartland, the Great Midwest
When it comes to defining what we know as all-American baking, everything from Bundt cakes to brownies have roots that can be traced to the great Midwest. German, Scandinavian, Polish, French, and Italian immigrant families baked their way to the American Midwest, instilling in it pies, breads, cookies, and pastries that manage to feel distinctly home-grown.
After more than a decade of living in California, author Shauna Sever rediscovered the storied, simple pleasures of home baking in her Midwestern kitchen. This unique collection of more than 125 recipes includes refreshed favorites and new treats:
Rhubarb and Raspberry Swedish Flop
Danish Kringle
Secret-Ingredient Cherry Slab Pie
German Lebkuchen
Scotch-a-Roos
Smoky Cheddar-Crusted Cornish Pasties
. . . and more, which will make any kitchen feel like a Midwestern home.
Praise For Midwest Made: Big, Bold Baking from the Heartland…
"I am absolutely in love with Shauna's book. It's filled to
the brim with all the simple, sentimental kinds of baked goods that are so much
a part of the heartbeat of the midwest. They all belong at family gatherings,
on a window sill, at a casual celebration. This is the kind of cookbook that
could never just sit on my shelf. It will be covered with flour and smears of
butter in no time!"—Ree Drummond, best selling authorof The Pioneer Woman Cooks

Don't even open this book unless you're prepared to rush to the kitchen to bake-it's that inspiring. With Sever's new book, we enter a world where home baking is treasured, where recipes are passed down through generations, where bakers, new and seasoned, revel in the bounty of the region, and where there's always something sweet on the kitchen counter. Midwest Made is as warm, generous, and inviting as an Ozark Skillet Cake.—Dorie Greenspan, award-winning author of Everyday Dorie and Dorie's Cookies

"Shauna Sever's deep look at the Midwest through its carbs in Midwest Made took me by actual surprise. Maybe it's that you can feel her connection to this place through stories about kranskakes, kuchens, runzas, and the people who bake them, or maybe it's because it feels like she's right there with you when you read her prose. Whatever the magic is, Shauna and her Midwestern glitter has made me want to BAKE!"—Vivian Howard, award-winning host of PBS's AChef's Life and author of Deep Run Roots

"The baking traditions of the Midwest are as deep as anywhere I know of. That said, I'd want to eat anything Shauna Sever bakes, no matter where in the world she is."

—Francis Lam, host of The Splendid Table

"Midwest Made is a stunning ode to everything that's great about baked goods of this region: they're cozy and crave-worthy, and tied to generations-old recipes that are perfect for making during a snowstorm. Shauna has packed so much soul and deliciousness into this book that you'll have no choice but to start creaming the butter and sugar immediately."—-Molly Yeh, author of Molly on the Range and host of Girl Meets Farm

"When it comes to her recipes, there's no stopping (and no choosing): coffee caramel monkey bread, Cleveland-style cassata cake, red berries and cream gelatin mold, Swedish limpa, big soft pretzels, State Street brownies (born in 1893 at the Palmer House in Chicago), Dutch letters from Pella, Iowa, and something simply called a "pan full of happy." Great color photographs, clear directions that soothe home bakers, and an oven's worth of tips solidify this as a must-read and -have."—-Booklist

"Baker Sever (Pure Vanilla) highlights more than 125 sweet and savory Midwestern dishes in this enticing and homey cookbook. ...Sever delivers hit after hit in a collection that will appeal to bakers of all skill levels."—-Publishers Weekly, starred review

"The great baking traditions of Europe have been passed down through immigrant families in the Midwest for generations. Sever is determined to share each and every one of them: from a nutty Slovenian (or Croatian, depending on who you ask) potica to an airy, meringue-filled German schaum torte, there's a dessert here for everyone."—-Epicurious

"Longtime blogger, baker, and book author Shauna Sever is also a native Midwestener, and this cookbook pays homage to all the wonderful baked goods of the region, many of which have roots in various immigrant cuisines....You'll be throwing more potlucks just for an excuse to bake these recipes."—-Chowhound

"Sever's newest book [is] grand and gorgeous,"—- Louisa Chu, Chicago Tribune

"Regional baked goods shine in Shauna Sever's "Midwest Made: Big, Bold Baking from the Heartland"... A lot of yum in these pages."—-Star Tribune
Running Press Adult, 9780762464500, 328pp.
Publication Date: October 22, 2019
About the Author
Shauna Sever is the author of Pure Vanilla, Marshmallow Madness, and Real Sweet. She is a radio contributor for The Splendid Table, and has appeared on the TODAY Show and Food Network.Her work has been featured in The Wall Street Journal, USA Today, Food52, Bon Appetit, The Kitchn, Family Circle, Real Simple, Midwest Living Magazine, and many others. She lives with her husband and two children in Chicago.