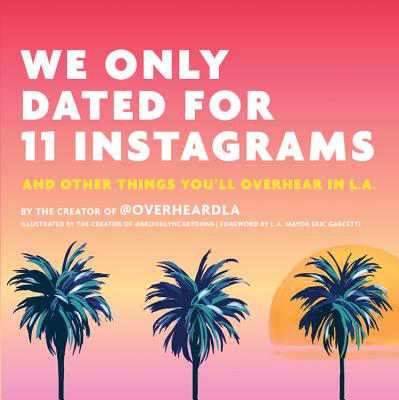 We Only Dated for 11 Instagrams (Hardcover)
And Other Things You'll Overhear in L.A.
Running Press Adult, 9780762464630, 192pp.
Publication Date: October 9, 2018
* Individual store prices may vary.
Description
From the hugely popular @OverheardLA Instagram account comes this illustrated collection of the entertaining, absurd, sometimes even poignant snippets of conversation overheard on the streets of Los Angeles.
Oh, Los Angeles: where kids with lemonade stands accept Venmo, where your Uber driver moonlights as a spiritual adviser. Whether you love L.A. or love to hate it, you'll delight in this comical tribute to the one and only La La Land -- a world all its own, yet also a microcosm of 21st century American culture in so many ways. The book features illustrations from Emmet Truxes, creator of the popular @brooklyncartoons Instagram account, and a foreword from L.A. mayor Eric Garcetti. It's the perfect gift for millennials and everyone who loves to (gently) mock them.
Prepare to laugh, to face-palm, to cringe, and to delight in such gems as,
"Timing is everything, whether it's sex, drugs, or avocados."
"Why are the older generations so judgmental? They were millennials once too."
"Nothing screams of desperation like a paragraph of hashtags."

And so many more.
About the Author
Overheard is a social media brand powered by original, user-generated content. It launched as @OverheardLA on Instagram in late 2015 by L.A. native Jesse Margolis, and it has expanded to include accounts in New York, London, and San Francisco. With content sourced everywhere from hipster cafes, vegan restaurants, nightclubs, and your local goat yoga class, Overheard is the insta-voice of our cities.



@brooklyncartoons is an Instagram account of singlepanel cartoons that focuses on the intersection of becoming an adult and the entrenchment of technology in our everyday lives. It is the creation of Emmet Truxes, who in addition to cartooning also runs an L.A.-based architectural and interior design studio. His first book of cartoons, You Look Better Online, was published by Abrams in 2017.