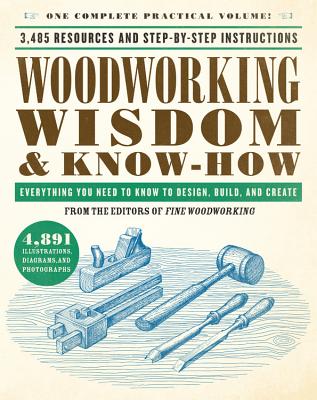 Woodworking Wisdom & Know-How (Paperback)
Everything You Need to Know to Design, Build, and Create
Black Dog & Leventhal, 9780762465446, 976pp.
Publication Date: May 8, 2018
* Individual store prices may vary.
Description
This complete, all-in-one, easy-to-follow resource, from the reliable experts at Fine Woodworking magazine covers everything you need to know about woodworking--from carving to building to finishes-- reformatted to fit snuggly into any home library.

Woodworking Wisdom & Know-How is the essential go-to book for every woodworking project under the sun, from building kitchen cabinets to refinishing a deck. The book is organized by topics such as Types of Wood, Building a Workshop, Working and Finishing Wood, Design and Styles, and Small and Large Projects. Each section is further broken down into chapters that cover specific skills, projects, and crafts for both the beginner and the advanced woodworker--Choosing Plywood, Cutting Dovetails, Building a Look-Inside Birdhouse, Relief Carving, Constructing a Classic Bed, Handheld Power Tools, Building a Cherry Chest of Drawers, Milling Lumber Four-Square, Fashioning a Shaker- Style Clock, and much more. Chapters feature step-by-step instructions, and an appendix of essential resources for supplies, tools, and materials is also included. The text, sourced from Fine Woodworking's vast cache of projects and woodworking advice is trusted, tried, and true.
Other titles in the Know-How Series, include:Survival Wisdom & Know-How (978-1-57912-753-4)Country Wisdom & Know-How (978-1-57912-239-5)Natural Healing Wisdom & Know-How (978-1-57912-800-5)Craft Wisdom & Know-How (978-1-57912-863-0)Garden Wisdom & Know-How (978-1-57912-837-1)

About the Author
The Taunton Press has been a leading publisher of books and magazines on woodworking, home building and design, fiber arts and sewing, crafts, gardening, and cooking for the last 30 years. Their magazines include Fine Woodworking, Fine Homebuilding, and Fine Gardening.